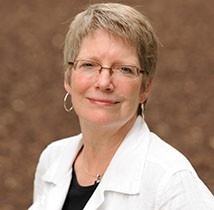 Department of Psychiatry
,
Department of Psychology and Neuroscience
,
Division of Neurology
Email:
gail.eskes@dal.ca
Phone:
902-494-4032
Mailing Address:
Brain Repair Centre
Dalhousie University 1348 Summer Street
PO Box 15000
North Tower
Halifax, NS B3H 4R2

Research Topics:
Cognitive impairment
Dementia
Executive functioning
Memory
Neuroplasticity
Neuropsychology
Rehabilitation
Working memory
Related information
Education
A.B., Psychology, University of California, Berkeley
PhD, Psychology, University of California, Berkeley
PDF Dalhousie University; Rotman Research Institute, Toronto, ON
Research interests
Professor Eskes' research interests include the impact of healthy and abnormal brain aging on cognitive abilities and daily function.  She is currently leading a 5-year $2.8M multidisciplinary project aimed to develop innovative cognitive assessment and rehabilitation tools and software for improving attention and cognition in older adults and in adults with brain diseases or disorders.
Selected publications

Champod, A.S., Taylor, K. & Eskes, G.A. 2014.  Development of a new computerized prism adaptation procedure for visuo-spatial neglect.  Journal of Neuroscience Methods, 235: 65-75. doi: 10.1016/j.jneumeth.2014.05.023.
Lau, E. YY., Eskes, G., Morrison, D.L., Rajda, M. & Spurr, K.F. 2013. The role of daytime sleepiness in psychosocial outcomes after treatment for obstructive sleep apnea.  Sleep Disorders, doi: 10.1155/2013/140725. Epub 2013 Mar 31
Tyndall AV, Davenport MH, Wilson BJ, Burek GM, Arsenault-Lapierre G, Haley E, Eskes GA, Friedenreich CM, Hill MD, Hogan, DB, Longman RS, Anderson TJ, Leigh R, Smith EE, Poulin MJ.  2013. The brain-in-motion study: effect of a 6-month aerobic exercise intervention on cerebrovascular regulation and cognitive function in older adults.  BMC Geriatrics Feb 28; 13:21. doi: 10.1186/1471-2318-13-21.
Plummer, P., Eskes, G., Wallace, S., et al., on behalf of the American Congress of Rehabilitation Medicine Stroke Networking Group Cognition Task Force. 2013.  Cognitive-Motor Interference during functional mobility after stroke:  State of the science and implications for future research.  Archives of Physical Medicine and Rehabilitation, 94 (12), 2565-2574. doi: 10.1016/j.apmr.2013.08.002.
Eskes, G.A., Longman, S., Brown, A.D., McMorris, C.A., Langdon, K.D., Hogan, D.B. and Poulin, M.  2010.  Contribution of physical fitness, cerebrovascular reserve and cognitive stimulation to cognitive function in postmenopausal women.  Frontiers in Aging Neuroscience, 2, 1-7. doi:10.3389/fnagi.2010.00137
Selected awards and honours  
Visiting Scientist to Alberta, Alberta Heritage Foundation for Medical Research & Heart & Stroke Foundation, 2008-2009
Clinical Research Scholar Award, Faculty of Medicine, Dalhousie University, 2002-2007
Public Education
 "Brain Fitness:  A Prescription for Successful Aging", Seniors' College Association of Nova Scotia, November 26, 2013.
"Gaming and Brain Fitness: Healthy Aging Series", Halifax Main Public Library, November 22, 2013.
"Sleep and Aging: Healthy Aging Series", Halifax Main Public Library, October 11, 2013.
"Making the Most of Your Memory:  Healthy Aging Series", Halifax Main Public Library, September 6, 2013.
"Brain Fitness and Successful Aging", Athenaeum Society, Northwest Cove, NS, April 15, 2012.