George
Robertson
Professor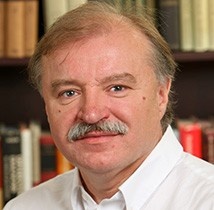 Email:
george.robertson@dal.ca
Phone:
902-494-1528
Mailing Address:
Dalhousie Department of Pharmacology
Faculty of Medicine
F200 Sir Charles Tupper Medical Building
5850 University Avenue
Halifax, NS B3H 1X5

Research Topics:
Neurodegenerative diseases
Multiple Sclerosis
Stroke
Schizophrenia
Dopamine
Gene expression
Animal model

Education
BSc (Dalhousie University)
PhD (Dalhousie University)
PDF (University of British Columbia)
Research interests
Dr. George S. Robertson's primary research interest is finding ways to block the injurious events responsible for neurodegenerative disorders such as Alzheimer's disease, stroke, multiple sclerosis and Parkinson's disease. He is developing both small molecule (drug)- and gene therapy-based approaches to protect the brain from damage by improving mitochondrial performance.
Selected publications
Warford J., Jones Q.R.D., Nichols M., Sullivan V., Rupasinghe H.P.V. and Robertson G.S. (2014) The flavonoid-enriched fraction AF4 suppresses neuroinflammation and promotes restorative gene expression in a mouse model of experimental autoimmune encephalomyelitis. Journal of Neuroimmunology 268(1-2): 71-83.
Wang H., Murphy R., Taaffe D., Yin S., Xia L., Hauswirth W.W., Bance M., Robertson G.S. and Wang J.  (2012) Efficient cochlear gene transfection in guinea-pigs with adeno-associated viral vectors by partial digestion of round window membrane. Gene Therapy 19(3): 255-263.
Jones Q.R., Warford J., Rupasinghe H.P. and Robertson G.S. (2012) Target-based selection of flavonoids for neurodegenerative disorders. Trends in Pharmacological Sciences 33(11): 602-610.
Wang J., Menchenton T., Yin S., Yu Z., Bance M., Morris D.P., Moore C.S., Korneluk R.G. and Robertson G.S.  (2010) Over-expression of X-linked inhibitor of apoptosis protein shows presbycusis in C57BL/6J mice. Neurobiology of Aging 31(7): 1238-1249.
Xu D.G., Crocker S.J., Doucet J.-P., St- Jean M., Hakim A.M., Ikeda J.-E., Thompson C., Liston P., Korneluk R.G., MacKenzie A. and Robertson G.S. (1997) Elevation of neuronal expression of NAIP reduces ischemic damage in the hippocampus. Nature Medicine 3: 997-1004.
Selected awards and honours
2011  Excellence in Teaching Award, Department of Psychiatry, Dalhousie University
2002-2007 CIHR-Rx&D Research Chair
1996 Canadian College of Neuropsychopharmacology Young Investigator Award ($4,500)
1989-1992 Medical Research Council Fellowship
1988 Co-recipient of a Sandoz Research Prize ($10,000)
Employment
Professor, Dalhousie University 2002-present
Director, Department of Pharmacology, Merck-Frosst 1998-2002
Associate Professor, University of Ottawa 1996-2002
Assistant Professor, University of Ottawa 1992-1996