Joel
Town
Assistant Professor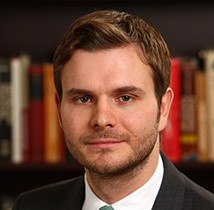 Email:
joel.town@dal.ca
Phone:
902-473-2543
Mailing Address:
Centre for Emotions & Health
Room 7507, AJLB
5909 Veterans Memorial Lane
Halifax, NS B3H 2E2

Research Topics:
Psychotherapy efficacy
short-term psychodynamic
emotional processing
psychotherapy change processes
treatment refractory depression
medically unexplained physical symptoms
post-traumatic stress
personality
Related information
• https://dynamichealthservices.ca/
• https://www.researchgate.net/profile/Joel_Town
Education
BSc HONS (University of York, England)
DClinPsy (Doctorate in Clinical Psychology, University of Sheffield, England)
Research interests
Dr. Town's areas of interest include psychotherapy outcome research; mechanisms of change in psychotherapy; psychological treatments for depression and medically unexplained symptoms. He has a particular interest in emotional contributors to health and complex intervention design and evaluation. Dr. Town is currently involved in clinical trials, systematic reviews, and meta-analyses evaluating the effectiveness of psychotherapy.
Selected publications

 Town, J.M., Salvadori, A., Falkenstrom, F., Bradley, S., & Hardy, G. (2017). Is affect experiencing therapeutic in depressive disorders: The relationship between affect experiencing and distress in Intensive Short-Term Dynamic Psychotherapy. Psychotherapy, 54(2), 148-158.
Town, J. M., Abbass, A., Bernier, D., & Stride, C. (2017). Halifax Depression Trial: A randomized controlled trial of Intensive Short-Term Dynamic Psychotherapy versus secondary care treatment as usual for treatment resistant depression. Journal of Affective Disorders, 214, 15-25. DOI: 10.1016/j.jad.2017.02.035
Town, J. M., Lomax, V., Abbass, A., & Hardy, G. (2017). The role of emotion in psychotherapeutic change for medically unexplained symptoms. Psychotherapy Research. (Epub). DOI: 10.1080/10503307.2017.1300353
Town, J. M., & Driessen, E. (2013). Emerging evidence for Intensive short-term dynamic psychotherapy with personality disorders and somatic disorders. Psychiatric Annals; 43(11), 502-507
Town, J. M., Diener, M. J., Abbass, A., Leichsenring, F., Driessen, E., & Rabung, S. (2012). A meta-analysis of psychodynamic psychotherapy outcomes: evaluating the effects of research-specific procedures. Psychotherapy, 49(3), 276-290. doi:10.1037/a0029564
Service Activity
Dr. Town is the lead clinical psychologist in the Medically Unexplained Symptoms Clinic at the QE-II Health Science Centre. He is also the Director of Dynamic Health Psychological Services, Halifax. Dr. Town is an experienced psychotherapy trainer/supervisor for mental health professionals and currently supervises clinical psychology internship and practicum students.
Research Activity
Dr. Town is currently the primary investigator on two clinical trials exploring the efficacy of Intensive Short-Term Dynamic Psychotherapy for somatic symptom disorders and treatment refractory depression. He is also leading projects examining mechanisms of change in these psychotherapy treatments. Dr. Town currently serves as a Consulting Editor of the American Psychological Association Division 29 journal, Psychotherapy and the Society for Psychotherapy Research journal, Psychotherapy Research.
Dr. Town is accepting applications for MSc and PhD students for psychotherapy research dissertations.