Yifeng
Wei
Assistant Professor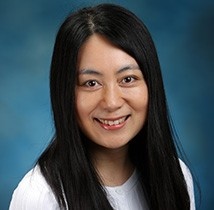 Email:
Yifeng.Wei@dal.ca
Phone:
902-470-6592
Mailing Address:
Department of Psychiatry
IWK Health Centre
5850 University Avenue, PO Box 9700
Halifax, NS B3K 6R8

Research Topics:
School Mental Health
Mental health literacy
Help-seeking
Stigma of mental illness
Child and adolescent mental health
Knowledge translation
Epidemiology
Education
BA (Hunan Normal University)
MA (York University)
PhD (Dalhousie University)
Research interests
Dr. Yifeng Wei's research interests include knowledge translation in school mental health, focusing on promoting mental health literacy, reducing stigma of mental illness and improving help-seeking behaviors in secondary schools. Her work is interdisciplinary and geared to contributing to mental health promotion and early intervention at national and international levels.
Selected publications  
Wei Y, McGrath P, Hayden J, Kutcher S. The quality of measurement tools evaluating the stigma of mental illness: a systematic review. Epidemiology and Psychiatric Sciences, 2017, 1-30. DOI: 10.1017/S2045796017000178
Milin R, Kutcher S, Lewis S, Walker S, Wei Y, Ferrill N, Armstrong M. Impact of a mental health curriculum on knowledge and stigma among high school students: a randomized controlled trial. Journal of American Academy of Child and Adolescent Psychiatry, 2016, 55(5): 383-391. DOI: 10.1016/j.jaac.2016.02.018
Kutcher S, Wei Y, & Weist M. (Eds.). International School Mental Health for Adolescents: Global Opportunities and Challenges. 2015. UK: Cambridge University Press.
Kutcher S, Wei Y, & Morgan C. Successful application of a Canadian mental health curriculum resource by usual classroom teachers in significantly and sustainably improving student mental health literacy. Canadian Journal of Psychiatry, 2015, 60(12), 580-586.
Wei Y, Kutcher S, & Szumilas M. Effectiveness on mental health of psychological debriefing for crisis intervention in school settings. Psychology Review, 2010, 22(3), 339-347.