News
»
Go to news main
Indigenous Admissions Pathway approved by Dalhousie Medical School
Posted by
Kate Rogers
on March 24, 2022 in
News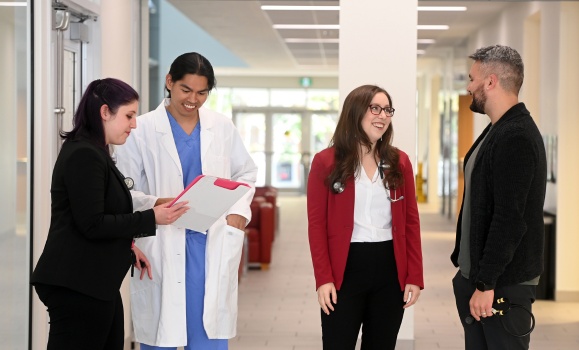 Dalhousie Medical School will soon be accepting more Indigenous students into their undergraduate medical education program.
A new Indigenous Admissions Pathway was recently approved for the 2022/2023 application cycle and will help facilitate entrance into the program for Indigenous students by assessing applications using a holistic file review.
Led by Dr. Brent Young, Academic Director for Indigenous Health, and supported by Keknu'tmasiek Welo'ltimk (pronounced: gag-new-d-muss-seeg well-oh-l-dim-k, a Mi'kmaw phrase that translates to "We Learn Healing") Program Manager Ms. Hannah Asprey, this new admissions pathway will minimize the barriers that have prevented Indigenous applicants from entering medical school at Dalhousie.
Vastly underrepresented in medicine
Several national bodies, including the Truth and Reconciliation Commission of Canada, recently called for an increase in the number of Indigenous people admitted to medical school. Working with stakeholders in Indigenous leadership organizations, the Faculty of Medicine responded to the call by forming an Indigenous Admissions Subcommittee to make recommendations relevant to Indigenous admissions policies and procedures.
"Indigenous people are vastly underrepresented in the medical profession," say Dr. Young. "This creates not only an employment equity issue, but also an Indigenous health equity issue. Dalhousie Medical School in located in Wabanaki and our campuses and distributed sites are situated on the ancestral and unceded territories of the Mi'kmaw, Wolastoqiyik, and Peskotomuhkati Peoples. We honour these treaty relationships, and we are accountable to the communities that we serve."
Until now Indigenous applicants could voluntarily self-identify to be considered for admission under Dalhousie's Education Equity Statement and if they met the academic and non-academic requirements, they would be provided admissions offers which are not dependent on rankings. This process has not had the intended effect of increasing Indigenous admissions.
"This model is challenging because we know that Indigenous people and other racialized folks are at a disadvantage when it comes to the GPA and standardized tests such as the MCAT" says Dr. Young. "This is related to several socioeconomic factors including language, access to education, and income. For Indigenous people, these factors are all influenced by racism and the ongoing legacy of colonization in Canada."
A holistic application review
Dalhousie Medical School recognizes that education equity and affirmative action processes are required to increase both admissions to the program, and the number of graduates from underrepresented groups. Aligning with Dalhousie's strategic plan, Third Century Promise, there is now a stronger commitment to make changes that will open doors where these individuals had previously been shut out. While the program will not do away with traditional testing procedures, under the new Admissions Pathway, Indigenous applicants will now have the opportunity to demonstrate other important qualities and attributes through interviews, personal statements, and supplemental information. This will allow applicants who are just shy of the MCAT or GPA requirements to highlight the many skills that Indigenous people build through perseverance and systems navigation, which are sought after qualities in physicians.
"With the current changes, we can now look at an Indigenous applicant who may be a couple of points away from the minimum criteria and ask if they've demonstrated other important qualifications or attributes such as altruism, leadership, and communication," says Dr. Young. "These are the qualifications and attributes our communities are concerned about when they see their physician, not necessarily what their exact score was on an entrance exam that they wrote six to 10 years before they entered independent medical practice."
The Indigenous Admissions Pathway will undergo an annual review by the subcommittee, who will continue to engage with stakeholders in Indigenous leadership organizations to ensure applicants are assessed appropriately, with the goal of equity for all Indigenous students.
For more information on the Indigenous Admissions Pathway please visit Dalhousie Medical School Admissions.
Self-identified Mi'kmaw, Wolastoqiyik, Peskotomuhkati, and other Indigenous applicants who can demonstrate a substantial connection to Indigenous communities, especially those in the Maritimes, will take priority beginning with the 2022/2023 application cycle.