'In service to others': Dal faculty and alumni awarded Queen's Platinum Jubilee Medal
»
Go to news main
More Dal‑linked recipients expected in months ahead
Posted by
Staff
on August 12, 2022 in
News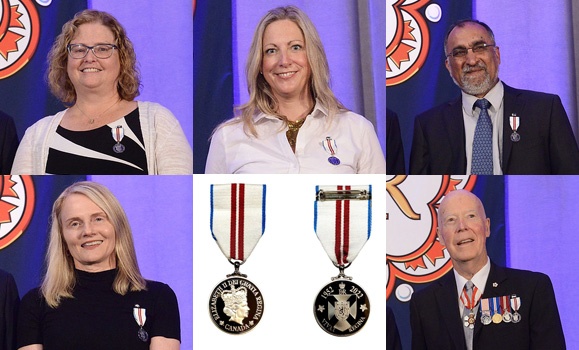 Five Dalhousie faculty members were among more than 60 Nova Scotians awarded Queen Elizabeth II's Platinum Jubilee Medal last week in recognition of significant service to the province, particularly during the pandemic.
Faculty members Lisa Barrett (Medicine), Sultan Darvesh (Medicine), Susan Fitzgerald (Architecture and Planning), Shelly McNeil (Medicine), and Ronald Stewart (Medicine) all received the medal as part of the inaugural investiture ceremony in Halifax last Thursday.
"Her Majesty's reign embodies the importance of commitment to one's community, and the Platinum Jubilee Medal honours those who have demonstrated an unwavering dedication to their professions and the well-being of the province," said Nova Scotia Lt-Gov. Arthur J. LeBlanc in a statement.
Several other individuals linked with the university, including alumni, adjunct faculty, and honorary degree recipients also received the medal last week. They include Alyson Lamb, an adjunct professor in the School of Nursing, Membertou First Nation Chief and honorary degree recipient Terry Paul, lawyer and Aurum Award-winning alum Lee Cohen, and others.
A total of 5,000 medals will be awarded to Nova Scotians in the coming months as part of the program, which marks the 70th anniversary of the Queen's accession to the throne. Further Dal community members are expected to be honoured at future ceremonies in the months ahead.
Learn more about the faculty members who received the medal below, followed by a list of all recipients:
For services to Health and COVID/Pandemic Relief
Dr. Barrett is a clinician scientist with expertise in infectious disease and human immunology. She joined Dalhousie in 2013 and established the Senescence, Aging, Infection and Immunity Laboratory, which combines her infectious disease and immunology expertise and is comprised of an expert team of clinical and basic science researchers. The lab, which she oversees as principal investigator, works on discovering targets that can improve immunity in individuals living with chronic viral infections and in the general aging population. Throughout the COVID-19 pandemic, Dr. Barrett emerged as a vital voice sharing reliable information about the virus and its spread. She worked with colleagues during the early part of the pandemic to ramp up rapid-testing in communities for asymptomatic people through pop-up clinics — a way to identify cases that might not have been captured through standard testing protocols. Clinically, Dr. Barrett is also interested in treating viral infections in underserved and incarcerated populations.
For service to Science
Dr. Darvesh is a behavioural neurologist and trained organic chemist with an interest in medicinal chemistry. He leads a team of researchers at Dalhousie in groundbreaking work that could be a gamechanger for millions of people living with Alzheimer's disease. His research has been instrumental in determining the importance and expression of butyrylcholinesterase — an enzyme that plays a key role in the progression of the disease — in the human brain. He has developed a radioactive molecule that enables PET and SPECT scanning of butyrylcholinesterase. This molecule could enable diagnosis in living patients— something previously impossible — and potentially result in new research and therapeutic approaches to reverse or make the disease more manageable.
For service to Architecture
Dr. Fitzgerald is a practicing architect and an assistant professor. Her architecture includes institutional, housing, civic, healthcare, public interest, and design-build projects. Since 2014, she has been running an urban systems studio investigating urban agriculture in Havana, Cuba. She is also the design director and a managing partner at Fowler Bauld & Mitchell Ltd. and founding director of the design-build research practice Susan Fitzgerald Architecture. Originally from the UK, Susan has been widely published internationally and is the recipient of many awards, including the Canada Council for the Arts - Professional Prix de Rome, Governor General's Medal in Architecture, the Wood Design Award, the EnRoute Air Canada Award in partnership with the RAIC, Maritime Design Awards, and multiple Lieutenant Governor's Awards including the Medal of Excellence. In addition, her work has been nominated for multiple Mies' Crown Hall Americas Prizes (IIT College of Architecture).
For services to Health and COVID/Pandemic Relief
Dr. McNeil is professor of medicine and clinical scholar at Dalhousie. She is also the division head and service chief for the Division of Infectious Diseases at the Nova Scotia Health Authority and research director of the Division of Infectious Diseases. Dr. McNeil is an accomplished researcher who completed internal medicine training at Dalhousie, followed by a fellowship in infectious diseases at the University of Michigan School of Medicine. Much of Dr. McNeil's research relates to influenza immunization, including the study of a novel, adjuvant vaccine to overcome immunosenescence in the elderly; projects to improve uptake of influenza vaccine among high-risk populations; examination of barriers to the receipt of influenza immunization by pregnant women; and the development and delivery of a continuing professional development program regarding influenza in pregnancy targeting physicians and pharmacists in Nova Scotia.
For service to Health and Education
An accomplished physician, professor, and politician, Dr. Stewart's career has focused on health-system excellence. Educated at Dalhousie and the University of Southern California, Dr. Stewart's career has ranged from general practice in a Nova Scotia coastal fishing village, staff positions at several noted medical schools, to Medical Director of the paramedic system of the City of Pittsburgh. He has been actively involved overseas in projects focused on emergency and primary care. A member of the Nova Scotia Provincial Parliament from 1993 to 1997, he served as Minister of Health and Registrar General from 1993 to 1996. A leader in health system reform, Dr. Stewart established the highly-recognized current Emergency Health Services system and a major expansion of home care services. Dr. Stewart has been honoured with several national awards for his work in tobacco control. He's been named a "Hero of Emergency Medicine" by the American College of Emergency Physicians, and in 2013 was a recipient of the Canadian Healthcare Association's "Distinguished Service Award" for work in improving the health system in Canada, service abroad and the creation of a "new medical specialty - Emergency Medicine."
Find a full list of medal recipients announced last week below:
Stephen Amirault, Brooklyn, Yarmouth County
Mairi Arthur, Dartmouth
Dr. Lisa Barrett, Halifax
Patrick J. Bates, Sydney
Sgt. Barry Best, Sydney
Annette Boucher, Fall River
Rev. Rhonda Britton, Halifax
Barbara Butler, Mahone Bay
Master Cpl. Taylor Virginia Rose Butler, Dartmouth
Colleen Carey, Dartmouth
Staff Sgt. Monier Chediac, Beaverbank
Lee Cohen, Halifax
Adrien B. Comeau, Saulnierville
Marlene Companion, Bedford
Cpl. David John Douglas Cross, Brookfield
Prof. Sultan Darvesh, Halifax
Michael R. Denny, Eskasoni
Irène d'Entremont, Dayton
Gordon S. Earle, Halifax
Jim Edgar, Dartmouth
Judy Edgar, Dartmouth
Wendell Eisener, Italy Cross
Megan Element, Dartmouth
Susan Fitzgerald, Halifax
Mayann E. Francis, Halifax
Lou Gannon, Westphal
Heather Gass, Halifax
Brig.-Gen. John James Grant, New Glasgow
Tareq Hadhad, Antigonish
Sgt. Alina Hall, Shubenacadie
Matt Hunter, Harmony
Cpl. Adam Jackson, Lower Sackville
Jessie Jollymore, Dartmouth
Don Julien, Truro
Dr. Judy Kazimirski, Falmouth
Alyson Lamb, Halifax
Gaétan Lang, Halifax
Chief Supt. Chris Leather, Bedford
Capt. Ralph Thomas MacDonald, Waverley
Ashley MacIsaac, Port Hawkesbury
Dr. Heather Mackinnon, Chester
Janet MacKinnon, Upper Tantallon
Sailor 1st Class Malachi Malabre, Halifax
Cathy Mason, Stellarton
Dr. Shelly McNeil, Halifax
Connie Miller, Upper Kennetcook
Chief Warrant Officer (Ret'd) Keith Mitchell, Tupper Lake
Jane Nicholson, Annapolis Royal
Chief Terry Paul, Membertou
Beth Peterkin, Parrsboro
Juanita Peters, Dartmouth
Patsy Rawding, Halifax
Sgt. Sean Reynolds, Abercrombie, Pictou County
Nuthaila Rihani, Beechville
Marie-Claude Rioux, Eastern Passage
Sailor 1st Class Matthew Joseph Ryan, Prospect Bay
Master Sailor MacKenzie Simpson, Enfield
Dr. Ronald Stewart, Boularderie East
Peter Stoffer, Fall River
Hanspeter Stutz, Grand Pré
Hope Swinimer, Seaforth
Alan Syliboy, Millbrook First Nation
Jonathan Veale, Halifax
Tuma Young, Malagawatch/Eskasoni
George Zwaagstra, Halifax