Faculty Wellness
Welcome to the home of Faculty Wellness, please take a look around and familiarize yourself with our new site.  There will be plenty of resources and upcoming projects that will be updated here regularly. If you would like to get involved in any the Faculty of Medicine wellness activities, please use the 'contact us' tab for our contact information.

Meet Dr Angela Cooper, Assistant Dean Faculty Wellness
Dr. Angela Cooper, a clinical psychologist, assumed the position of Assistant Dean, Faculty Wellness, for a five-year term beginning September 2020. The brand-new position will focus on creating a culture of wellness alongside wellness programming for faculty at various Dalhousie teaching sites across Atlantic Canada.
Hailing from Lancashire, England, Dr. Cooper completed her PhD in clinical psychology at Nottingham University in the UK. She spent three years specializing in Intensive Short- Term Dynamic Psychotherapy (ISTDP) and then, in 2015, with an interest in medically unexplained symptoms (MUS) and wellness, relocated to Halifax to work for the Centre for Emotions and Health (Nova Scotia Health Authority). Here, she provides an emotion-focused psychotherapy service across two family medicine clinics for patients who are struggling with physical symptoms that medical investigations can not fully explain.
Dr. Cooper became interested in physician wellness through an ongoing teaching appointment in the Department of Family Medicine and took it upon herself to help physicians better understand MUS on a deeper level. Through this work, Dr. Cooper has helped physicians become more attuned to their emotions and mental health.
"I don't believe you can have a healthy workplace unless people have an awareness of their own wellness," says Dr. Cooper. "Becoming aware of one's own wellness can then help us to help our patients, often in a more humanizing way. We have all suffered loss and setbacks. We don't always know how to create the space to process those emotions or create the psychological safety to enable this to happen."
In her new role, Dr. Cooper will work to determine which wellness issues are currently affecting the faculty. She will also create a culture of wellness in the face of burn out and strain, bringing awareness to how these types of stressors may be impacting faculty members. The plan is to begin implementing change primarily at the systemic level and continue to support evidence-based strategies at the individual level.
"I want to contribute to meaningful systemic change that impacts people in a deeper way. It is really what has driven me into my career in the first place, and now I have the chance to see what changes I can bring forth," she says. "The systemic piece is crucial: faculty members cannot improve their wellness if the system and culture does not foster it."
(adapted from an original piece published in Headlines, September 2020 / VOLUME 15/ ISSUE 5)
Dr Roberta Preston, Program Manager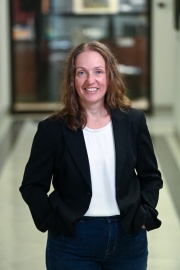 Dr. Roberta Preston is the Program Manager for the Faculty Wellness Office. Roberta has a long-standing interest in professional and personal wellbeing which includes a background as an executive coach and a facilitator in team and leadership development. Her education doctorate used a realist evaluation to study the impact of peer coaching on faculty development.