Global Health
Global engagement and outreach
Through our global health efforts, we are helping to provide anesthesia training and resources to low- and middle-income countries and regions around the world.

Globally, about 234 million major surgical operations are conducted each year. In some regions, anesthesia-related mortality is as high as 1 in 150 patients receiving general anesthesia. Safe surgery requires safe anesthesia, which can only be delivered if sustainable, high-quality training and resources are available.

Our department has actively supported global health activity since 2009. Our faculty members have also participated in education, service, and research collaborations in Asia, Africa, Central America and the Middle East.
Programs and initiatives
Anesthesia postgraduate teaching (Rwanda)
Through the Canadian Anesthesiologists' Society International Education Foundation (CAS IEF) program in Rwanda, staff anesthesiologists and residents from our department have travelled to Rwanda to provide education, training and support to postgraduate residents and nurse anesthetists.
The rich collaboration that has developed over the years has provided bilateral learning. Education occurs across cultures and through a variety of active educational methods. This partnership has been beneficial on both sides. Dalhousie anesthesiologists, fellows and residents report enhanced skills in teaching, cultural sensitivity, and resourcefulness. Some have applied these skills in working with underserved populations in Canada.
Learn more about the program through the Ikinya video.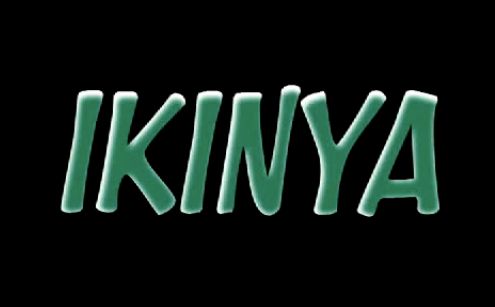 Rwandan resident program - Dalhousie elective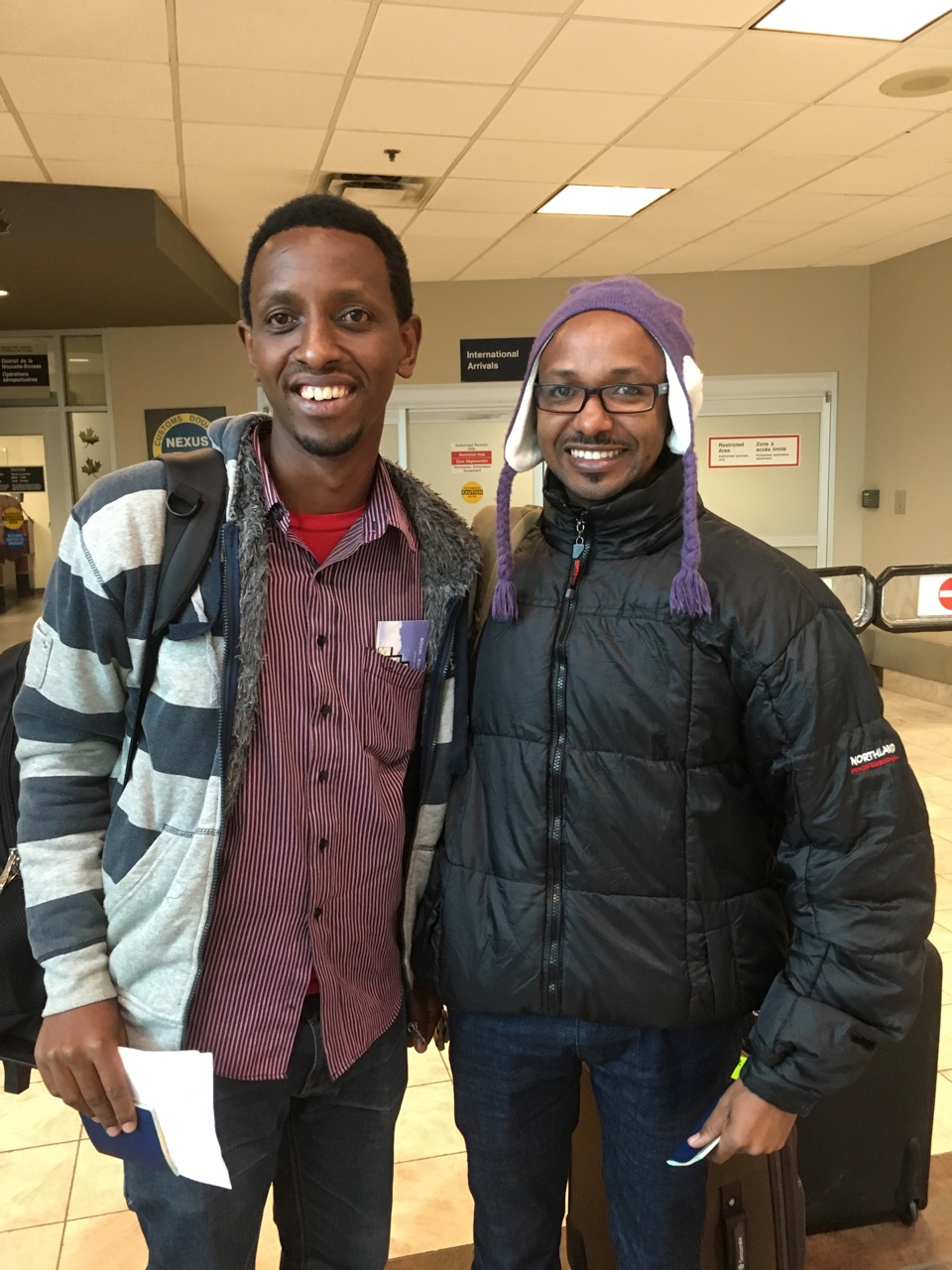 In March 2017, we welcomed two new Rwandan residents, Drs. Eugene Tuyishime (left) and Alcade Rudakemwa (right), to participate in an anesthesia elective.
The Department of Anesthesia, Pain Management & Perioperative Medicine offers educational electives to anesthesia residents from the University of Rwanda. The program supports the ongoing partnership between Canadian Anesthesiologists' Society International Education Foundation (CAS IEF), Dalhousie University and the University of Rwanda aimed at developing sustainable excellence in anesthesia in Rwanda. Since 2010, we have brought 2 Rwandan residents every 2 years to complete a 3-6 month anesthesia elective at Dalhousie University. Residents who have completed this elective return to Rwanda with enhanced skills in clinical anesthesia and stronger capacity for leadership.
Vital Anesthesia Simulation Training (VAST) Course
Developed by Dr. Adam Mossenson, Dr. Patty Livingston, Dr. Christian Mukwesi and Michelle Murray, the Vital Anesthesia Simulation Training (VAST) course brings the benefits of simulation training to a wide range of contexts. VAST is designed to be portable, locally adaptable and affordable. It reinforces essential clinical practices and focuses on non-technical skills relevant for anesthesia providers and perioperative teams. Through partnership and capacity building of a local facilitator network, VAST promotes the ability for enduring and sustainable delivery of simulation-based education.
Members of the Department of Anesthesia, Pain Management & Perioperative Medicine have participated in courses at all levels as attendees, facilitators and instructors – this includes residents too! Past courses have been conducted in Ethiopia, Fiji, India, Rwanda, Tanzania, and rural Canada with plans to expand the course into other countries and areas of need.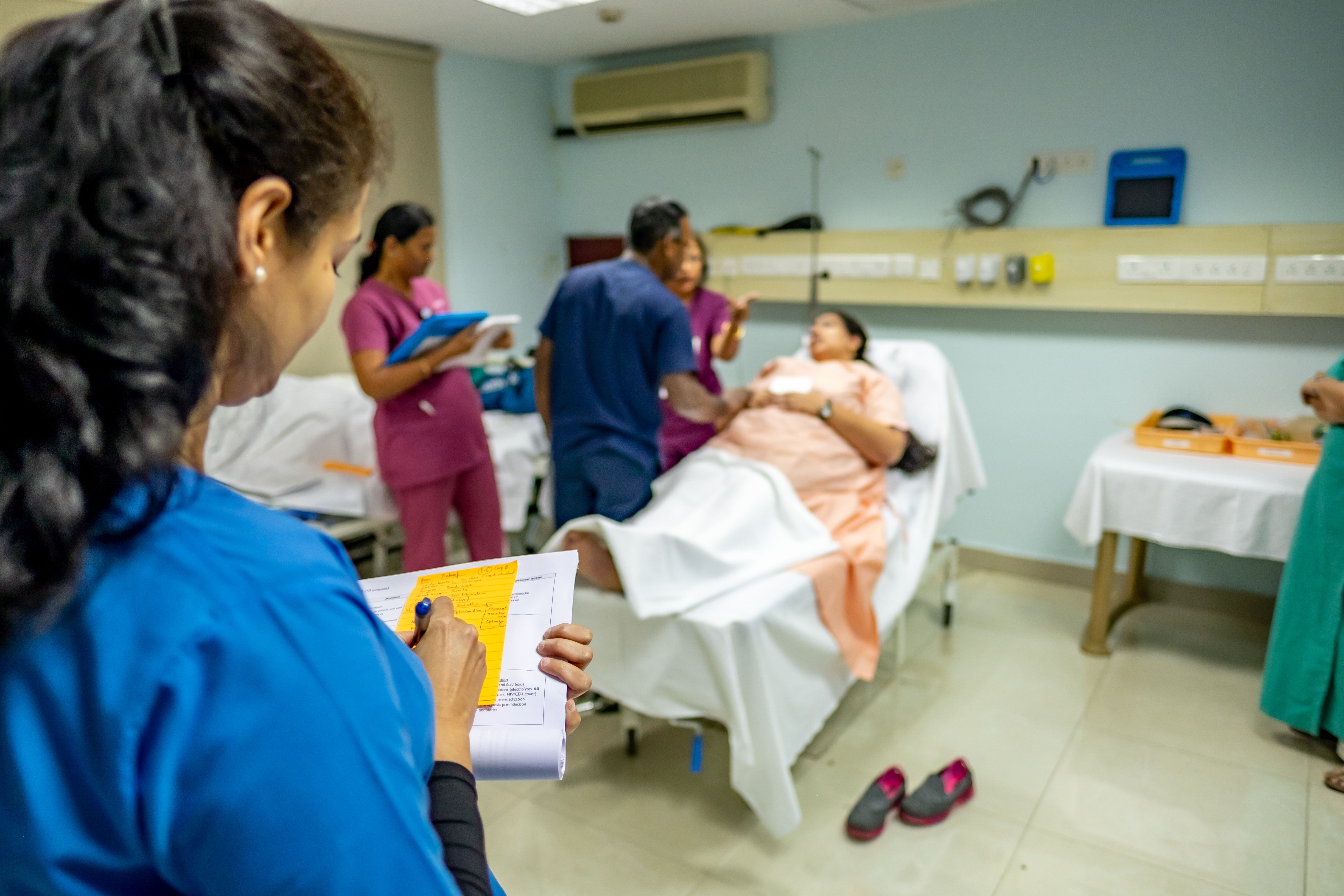 Global health fellowship
The Dalhousie University Department of Anesthesia, Pain Management & Perioperative Medicine offers a comprehensive fellowship program that allows the successful candidate to work with a growing team of experts in global health. The Department is recognized nationally and internationally as a centre of clinical excellence in anesthesia care and has one of the highest ranked residency training programs in Canada. The successful candidate will practice and teach at the QEII Health Sciences Centre, the largest tertiary care hospital in Atlantic Canada, and will spend time in clinical service and teaching in low-resource settings globally.
For more information on this opportunity, please visit the department's fellowship programs page.
Local initiatives
Doctors Against Tragedies (DAT)
Originally developed by a group of anesthesiologists and surgeons in Alberta, Doctors Against Tragedies (DAT) is a card game, modelled after Cards Against Humanity, used to combat the abuse and misuse of opioids in youths.


Recognizing a need in Nova Scotia, Dr. Jennifer Szerb, an anesthesiologist, lead the introduction of DAT to our province in 2018 with funding from Doctors Nova Scotia. The activities associated with DAT - including educational awareness, the card game and an introduction to naloxone training - are made possible by a committed group of Dalhousie University volunteer medical students and residents.
For more information, please visit the DAT website.
Substance Use Disorder Consult Service


The Substance Use Disorder Consult Service is available to see any inpatient admitted to the QEII or Nova Scotia Rehab Centre who has a suspected or established substance use disorder. The Service's mandate is to provide motivational interviewing, assess readiness for treatment, initiate or titrate medications as indicated, and coordinate outpatient follow up. The team is composed of volunteer residents and is led by anesthesiologist Dr. John Fraser.
University of Rwanda Faculty of Medicine Simulation and Skills Centre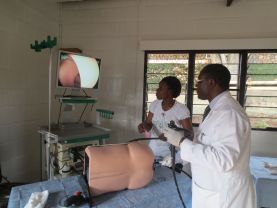 Faculty of Medicine Simulation and Skills Centre
Dr. Patty Livingston, Medical Director of Global Health, led the establishment of the School of Medicine Simulation and Skills Centre at the University of Rwanda, the first of its kind in that country. The Centre promotes and enhances patient safety and effective clinical care through experiential learning and simulation-based education, teaching technical and non-technical skills in anesthesia, surgery, obstetrics, pediatrics, internal medicine, emergency medicine and nursing. Since it opened in 2013, it has been a hub for medical simulation training, hosting more than 3000 learning encounters in numerous educational programs. Learn more.
Anesthesia for Global Outreach Course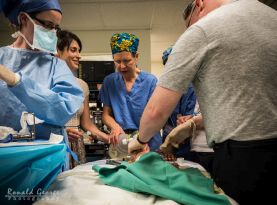 AGO faculty and participants
Anesthesia for Global Outreach is a three day course held every two years that focuses on novel techniques and equipment for delivering anesthesia care in underserviced environments – the conditions under which 80% of the world's anesthesia care is delivered.
The course boasts a cadre of world-renowned experts in global health and anesthesia. By the end of the course, Anesthesia for Global Outreach participants can expect to
recognize and demonstrate the knowledge of anesthetic techniques likely to be encountered in low resource settings
learn the preparations needed to safely work in austere conditions specific to the practice of anesthesia including intellectual, technical, ethical and attitudinal factors
discuss and demonstrate various means of delivering educational programs in resource-poor environments such as the use of simulation to practise clinical and technical skills and care delivery
discuss the psychological and ethical adaptations that occur when working in an austere practice environment
Dalhousie hosted a highly successful course in May 2015, welcoming faculty and participants from Canada, US, Australia, New Zealand, Kenya, UK, and Rwanda.
The next Anesthesia for Global Outreach Course will be hosted at the Boston Children's Hospital from October 9-11, 2020. For more information, please contact info@anesthesiaglobaloutreach.com or visit anesthesiaglobaloutreach.com.
Bethune Round Table 2016
The Bethune Round Table (BRT) was hosted at Dalhousie University, June 3-4, 2016.
The Department of Anesthesia, Pain Management and Perioperative Medicine, in collaboration with the Departments of Surgery and Obstetrics & Gynecology as well as the Canadian Network for International Surgery (CNIS), led the development of this exciting conference.
The BRT is an annual interdisciplinary scientific meeting hosted at Canadian academic centres to discuss the challenges and solutions to improving surgical care to underserviced and marginalized populations in low- and middle-income countries. The objective of the BRT is to bring together health professionals from a variety of disciplines, including surgeons, anesthesiologists, obstetricians, pathologists and nurses, as well as public health and government health workers, to share their research and experiences in the delivery of surgery in low-resource settings. The 2017 theme is "Evidence Based Global Surgery – Advancing Education, Research, and Advocacy".
Visit BethuneRoundTable.com, for more information about the current conference.