Serving and Engaging Communities
Global engagement and outreach
Through our global health efforts, we are helping to provide anesthesia training and resources to resource-limited settings around the world.

Globally, about 310 million major surgical operations are conducted each year. In some regions, anesthesia-related mortality is as high as 1 in 150 patients receiving general anesthesia. Safe surgery requires safe anesthesia, which can only be delivered if sustainable, high-quality training and resources are available.

Our department has actively supported global health activity since 2009. Our faculty members have also participated in education, service, and research collaborations in Asia, Africa, Central America and the Middle East.
Programs and initiatives
Anesthesia postgraduate teaching (Rwanda)
Through the Canadian Anesthesiologists' Society International Education Foundation (CAS IEF) program in Rwanda, staff anesthesiologists and residents from our department have travelled to Rwanda to provide education, training and support to postgraduate residents and nurse anesthetists.
The rich collaboration that has developed over the years has provided bilateral learning. Education occurs across cultures and through a variety of active educational methods. This partnership has been beneficial on both sides. Dalhousie anesthesiologists, fellows and residents report enhanced skills in teaching, cultural sensitivity, and resourcefulness. Some have applied these skills in working with underserved populations in Canada.
Learn more about the program through the following videos:
Rwandan resident program - Dalhousie elective
The Department of Anesthesia, Pain Management & Perioperative Medicine offers educational electives to anesthesia residents from the University of Rwanda. The program supports the ongoing partnership between Canadian Anesthesiologists' Society International Education Foundation (CASIEF), Dalhousie University and the University of Rwanda aimed at developing sustainable excellence in anesthesia in Rwanda. Every two years, since 2010, the Department has brought one to two Rwandan residents to Dalhousie University to complete a 2–3-month anesthesia elective. Residents who have completed this elective return to Rwanda with enhanced skills in clinical anesthesia and a stronger capacity for leadership.
Dr. Claudine Uzamukunda, a Rwandan resident who came for elective training in 2019
Vital Anesthesia Simulation Training (VAST) Course
Developed by Dr. Adam Mossenson, Dr. Patty Livingston, Dr. Christian Mukwesi and Michelle Murray, the Vital Anesthesia Simulation Training (VAST) course brings the benefits of simulation training to a wide range of contexts. VAST is designed to be portable, locally adaptable and affordable. It reinforces essential clinical practices and focuses on non-technical skills relevant for anesthesia providers and perioperative teams. Through partnership and capacity building of a local facilitator network, VAST promotes the ability for enduring and sustainable delivery of simulation-based education.
Members of the Department of Anesthesia, Pain Management & Perioperative Medicine have participated in courses at all levels as attendees, facilitators and instructors – this includes residents too! Past courses have been conducted in Ethiopia, Fiji, India, Rwanda, Tanzania, and rural Canada with plans to expand the course into other countries and areas of need.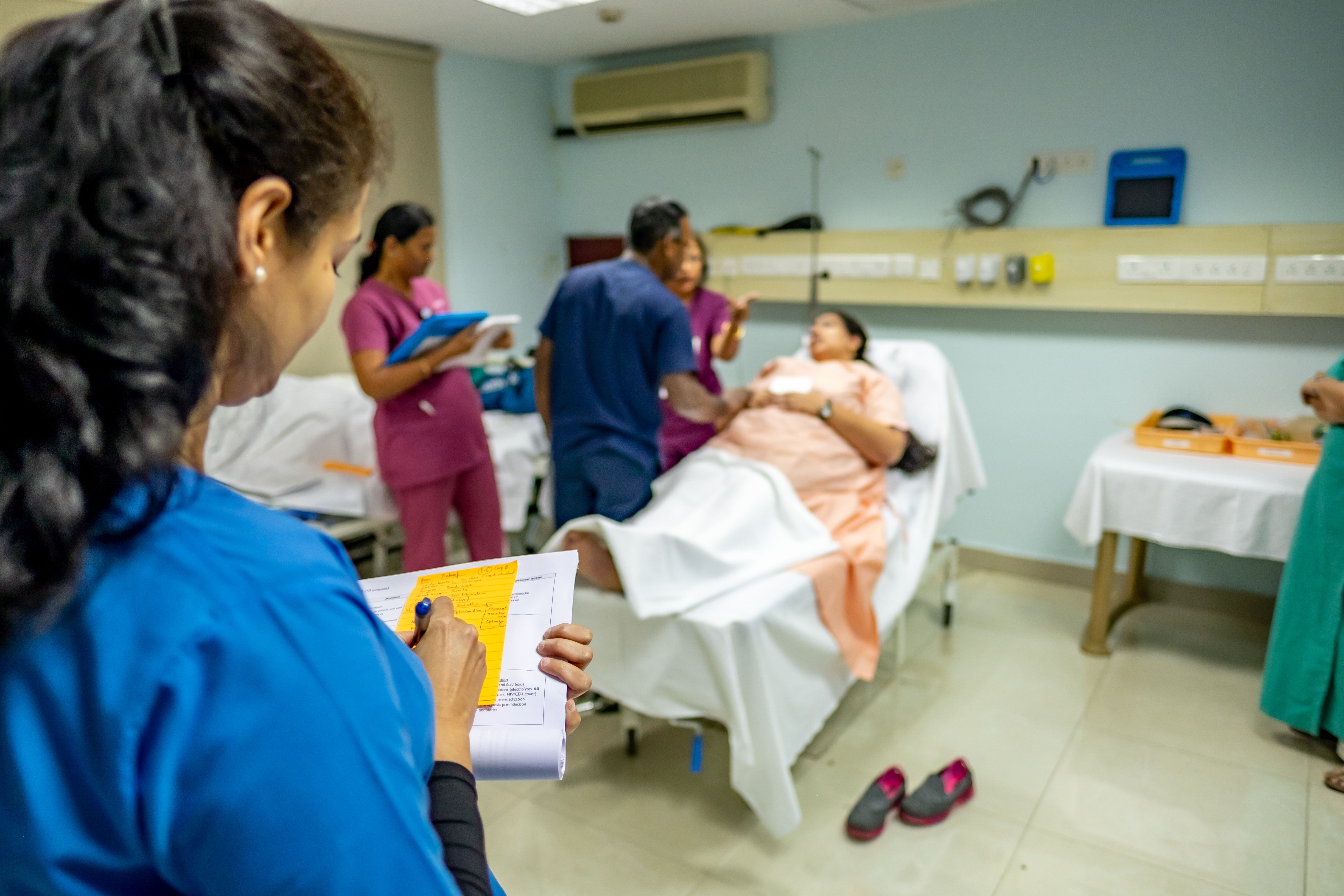 Global health fellowship
This year-long program was one of the first global health fellowships in North America. The Global Health Fellowship prepares candidates with knowledge, skills and attitudes for health education and research, regardless of boundaries. Fellows collaborate with our team to develop a scholarly project of mutual interest.
The fellowship is highly flexible and tailored to the candidate's interests. It is possible to focus mainly on clinical service in resource-limited settings, to develop educational tools, to acquire skills as a simulation facilitator, to pair the fellowship with a degree in education or public health, or to conduct relevant research. We are particularly interested in candidates who are lifelong learners and would like global health work and advocacy to be part of their future careers.
The successful candidate will practice and teach at the QEII Health Sciences Centre, the largest tertiary care hospital in Atlantic Canada, and will spend 3-4 months in clinical service and teaching in low-resource settings globally. There are opportunities for simulation training exposure in Halifax and abroad.
For more information on this opportunity, please visit the department's fellowship programs page or email Dr. Jon Bailey (jon.bailey@dal.ca)
Local initiatives
Doctors Against Tragedies (DAT)
Originally developed by a group of anesthesiologists and surgeons in Alberta, Doctors Against Tragedies (DAT) is a card game, modelled after Cards Against Humanity, used to combat the abuse and misuse of opioids in youths.
Recognizing a need in Nova Scotia, Dr. Jennifer Szerb, an anesthesiologist, lead the introduction of DAT to our province in 2018 with funding from Doctors Nova Scotia. The activities associated with DAT - including educational awareness, the card game and an introduction to naloxone training - are made possible by a committed group of Dalhousie University volunteer medical students and residents.
For more information, please visit the DAT website.
Addictions Medicine Consult Service (AMCS)
The purpose of the service is to assist with the assessment and management of patients admitted with known or suspected substance use disorders or addiction and to provide support and education to health care teams providing care for this patient population. The Service's mandate is to provide motivational interviewing, assess readiness for treatment, initiate or titrate medications as indicated, and coordinate outpatient follow up. The team is composed of volunteer residents and is led by Drs. Reza Mehrpooya, Jolene Cook, and Pamela Arenella.

University of Rwanda Faculty of Medicine Simulation and Skills Centre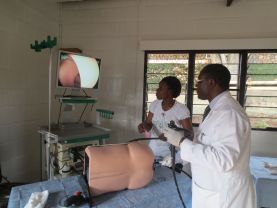 Faculty of Medicine Simulation and Skills Centre
Dr. Patty Livingston, former Medical Director of Global Health, led the establishment of the School of Medicine Simulation and Skills Centre at the University of Rwanda, the first of its kind in that country. The Centre promotes and enhances patient safety and effective clinical care through experiential learning and simulation-based education, teaching technical and non-technical skills in anesthesia, surgery, obstetrics, pediatrics, internal medicine, emergency medicine and nursing. Since it opened in 2013, it has been a hub for medical simulation training, hosting more than 3000 learning encounters in numerous educational programs. Learn more.