Partnerships
Collaborating for greater worldwide health opportunities
Tenwek Hospital, Kenya
Tenwek Hospital is a Christian community that seeks to exemplify Christ in all aspects of what we do.
Tenek provides compassionate, affordable healthcare to the people in the surrounding areas and offer specialty referral services for many of the surrounding counties and countries. The hospital offers training for medical students, interns, nursing students, dental technicians, laboratory technicians, pharmaceutical technicians, orthopedics, and chaplains. Tenwek Hospital also provides advanced training for doctors in family practice and surgery.
Short-term volunteer placement at Tenwek Hospital is coordinated through World Medical Missions, a branch of the Samaratin's Purse Organization. WMM works to coordinate service opportunities for licensed physicians, residents, dentists and some allied health professionals for trips from 2 weeks to up to one year in length. Information regarding short term missions can be found on the Samaritans Purse World Medical Mission webpage.
Canadian Network for International Surgery (CNIS)
The purpose of the Essential Surgical Skills course is to put into the hands of primary care providers working in low-income regions a standard set of life saving surgical skills for emergencies that such clinicians face frequently.
It is common in low-income regions to have scarce or a complete absence of certified surgeons. One does not need to be a surgeon to competently carry out lifesaving surgical skills. Non-surgeons can develop the competence and confidence to apply surgical care in order to save lives in circumstances that are common to most communities.
Departments of Surgery, Anesthesia, Pain Management and Perioperative Medicine and Obstetrics & Gynecology as well as the Canadian Network for International Surgery (CNIS), led the development of the 2016 conference.
Canadian Association of General Surgeons
Canadian Association of General Surgeons (CAGS) https://cags-accg.ca/
CAGS advocates for manpower issues, transition of practice for the aging General Surgeon, pay equity for General Surgeons, access to resources needed to provide care for patients, and for quality of care for surgical patients. CAGS provides a voice for ALL General Surgeons to be heard across Canada. A strong and unified voice for General Surgery will make healthcare better for Canadians.
Global Surgery Committee (CAGS)
Provides communication to CAGS members about surgical needs in the developing world, facilitates and coordinates on behalf of CAGS members who are interested in working in the developing world, development of recommendations for general surgery resident education in the needs and educational strategies to prepare general surgeons for work in the developing world.
University of Rwanda, Rwanda
The Faculty of Medicine Clinical Simulation and Skills Centre (FOMSSC) at the University of Rwanda officially opened in February 2013 through a joint initiative between Global Surgery and the Department of Anesthesia, Pain Management and Perioperative Medicine. Original funding for the project was through a Grand Challenges Canada Rising Stars grant.
Our Global Surgery Office (GSO) supported the development of this centre through participation in surgical education and team training. Courses include Basic Surgical Skills Course and Perioperative Scrub Skills (Nurse Training).
Dalhousie GSO is collaborating with surgeons, anesthetists and residents from the University of Rwanda, Dalhousie Anesthesia and McGill University to develop an integrated surgical skills and simulation curriculum.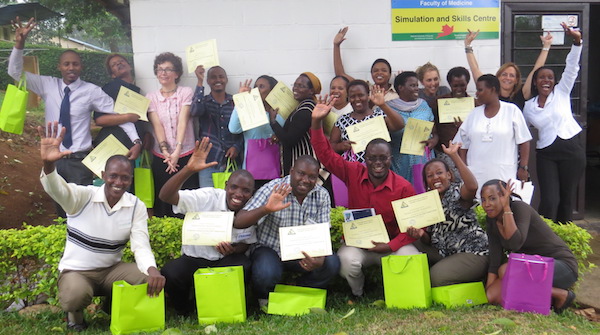 Team Broken Earth Haiti
The Team Broken Earth Haiti teams comprise health care professionals in emergency medicine, orthopaedic surgery, pediatric medicine and plastic surgery, who will support one another to provide much-needed education and support to the Haitian medical system.
All team members are part of the ongoing educational progress for medical care in Haiti—an integral system that has been set up through partnerships with the Bernard Mevs Hospital in Port-au-Prince and the Haitian government.
Halifax Broken Earth has been to Haiti in 2013, 2014 and twice in 2015.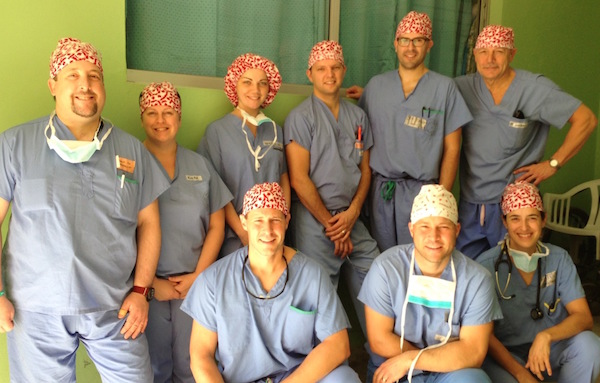 University of Dodoma, Tanzania
The University of Dodoma in Tanzania a public post-secondary institution, established in 2007. The university's College of Health Sciences graduated its first cohort of physicians in 2014. The first intake of general surgery residents (two positions) commenced training in September 2013.
In 2014, members of Dalhousie's Global Surgery visited Dodoma to establish a partnership between the two institutions within the realm of surgical education and research. An area for collaboration was readily evident: despite a well-designed curriculum and new facilities, there are very few postgraduate-trained general surgeons to teach and mentor trainees.
The Global Surgery Office at Dalhousie University is now working to establish teleconferencing for supplementary content delivery to help meet the need for specialist instructors and mentors. Building on our growing expertise in surgical simulation and skill development that has been successfully deployed both in Halifax and Kigali, the role for electronic tele-mentoring, simulation curriculum development and instruction is also evolving.
The United Republic of Tanzania has one of the lowest rates of physicians per capita in Sub-Sahara Africa, with a national average of 3.5 per 100,000. However, this masks significant regional variability. Over half of the 1,339 physicians registered with the Ministry of Health practice in Dar es Salaam. Of those physicians, only 110 are registered as surgeons, one third of which are in administration. In the capital city of Dodoma, there are just two general surgeons serving a catchment area of several million.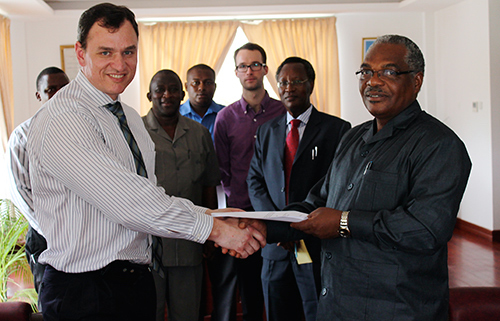 Canadian Coalition for Global Health Research (CCGHRR)
Department of Surgery have been a member of since 2013. This is valuable resource, especially for residents interested in global surgery research.