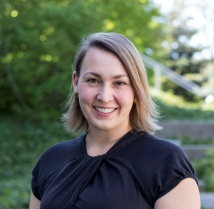 Email:
ruth.lavergne@dal.ca
Phone:
902-473-4741
Fax:
902-473-4760
Mailing Address:
Dalhousie Family Medicine
1465 Brenton Street, Suite 402
Halifax NS B3J 3T4

Education
BSc (Environment and Health, Bioethics minor), University of Toronto, 2006
MSc (Community Health and Epidemiology), Dalhousie University, 2009
PhD (Population and Public Health), University of British Columbia, 2015
Research Interests
Ruth Lavergne is an Associate Professor in the Department of Family Medicine at Dalhousie University. Dr. Lavergne's program of research aims to address disparities in access and build evidence to ensure primary care organization, delivery, and workforce meet the needs of Canadians now and in the future.
Her expertise is in quantitative analysis of population-based administrative health data and use of quasi-experimental designs to examine the impact of policy changes. She leads interdisciplinary mixed methods primary care studies in collaboration with experts in qualitative methods, patients, care providers and policymakers.
Current work examines changing practice patterns within the physician workforce, focusing on primary care and psychiatry. She also leads research exploring access to primary care for immigrant and refugee populations and integration of care for people who need services for mental health and substance use disorders.
Selected Grants
Pan-Canadian Study of Psychiatric Care (PCPC)
2021-2025
CIHR Project Grant ($711,452)
Principal Applicants: Rudoler D (nominated), Lavergne MR, Marshall E, Zaheer J. Co-applicants Bolton J, Etches S, Good K, Katz A, Kurdyak P, Mulsant B. Aims: 1) Develop and evaluate comparable indicators of supply of psychiatric care across provinces. 2) Analyze variation and changes in the characteristics of the psychiatrist workforce, including demographics and practice style. C) Study psychiatrist preferences for practice style, and the factors that lead to practice style selection.


Primary Care for Individuals with Serious Mental Illness (PriSMI)
2020-2025
CIHR Project Grant $994,500. Principal Applicants: Grudniewicz A, (nominated), Lavergne MR, Rudoler D, Peckham A. Co-applicants: Ashcroft R, Corace K, Kaluzienski M, Kurdyak P, Langford L, McCracken R, Norris C, Rayner J, Schütz C, Sunderji N, Thai H. Aims: Describe the role primary care plays in supporting individuals with severe mental illness (SMI) in meeting their health and social needs and identify ways in which primary care can better support individuals with SMI in Ontario and British Columbia.


Preventing and Mitigating the Impacts of COVID-19 Among Im/migrants in British Columbia: Rapid Mixed-Methods Data to Inform Policy and Programmes 
2020-2021
Michael Smith Foundation for Health Research COVID-19 Rapid Response Operating Grant $149,990. Principal Applicants: Goldenberg S (nominated), Lavergne MR, Wiedmeyer M. Co    applicants: Wanigaratne S, Shannon K. Aims: Compare COVID-19 service use, testing, and infection rates between im/migrants and non-im/migrants, and across classes of im/migrants (permanent/ precarious), examine im/migrants' lived experiences with COVID-19 prevention, testing and care, including how living and working conditions shape ability to engage with public health directives and identify impacts of rapid policy changes (changes to MSP eligibility and coverage for COVID-19 care, transitions to virtual care) on health insurance and service use across classes of im/migrants (permanent/precarious), and by language ability, time in Canada, and country of origin.


Evaluating Inequities in Refugee and Immigrant Women's Sexual and Reproductive Health Access (IRIS): A Mixed-Methods, Population-Based Study in British Columbia.
2019-2024
CIHR Project Grant $956,250.
Principal Applicants: Lavergne MR (nominated), Goldenberg S, Wiedmeyer M. Co-applicants: Duff P, Krusi A, Machado S, Shannon K, Shoveler J. Aims: Understand patterns and determinants of sexual and reproductive health service use among immigrant women in British Columbia, including potential inequities among marginalized subgroups and impacts of 'natural policy experiments' (including changes to health insurance, 'access without fear,' and public funding of telephone interpretation).


Practice patterns among early-career primary care physicians and workforce planning implications: a mixed methods study 
2018-2022
CIHR Project Grant $1,243,124
Principal Applicants: Lavergne. MR (nominated), Grudniewicz A, Goldsmith L, Rudoler D, Marshall E Co-applicants: Burge F, Gibson R, Glazier R, Hawrlylyshyn S, Hedden L, Horrey K. Joyce M, Kiran T, MacKenzie A, McCracken R, Matthews M, McGrail K, McPherson C, Mitra G, Sampalli T, Scott, I, Snadden D, Tomblin Murphy G, Wong S. Aims: Compare practice patterns among early-career and established primary care physicians and determine if any changes over time reflect cohort effects (attributes unique to the most recent cohort of physicians), or period effects (changes over time across all physicians). Identify what values and preferences, including attributes of clinical work as well as lifestyle and financial considerations, shape the intentions and choices of family medicine residents and early career primary care physicians.
Selected Publications