Xianping
Dong
Associate Professor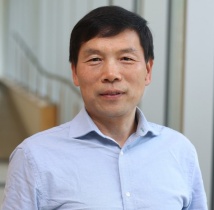 Department of Physiology and Biophysics
Email:
xpdong@dal.ca
Phone:
902-494-3370
Mailing Address:
4C1, Sir Charles Tupper Medical Bldg, 5850 College Street
PO Box 15000, Halifax, Nova Scotia, Canada B3H 4R2

Research Topics:
Molecular and genetic physiology
Ion channel
Transporters
Calcium signalling
Autophagy
Lysosomes
Lysosomal storage diseases
Neurodegenerative diseases
Education
BA/BSc (Anhui University)
MA/MSc (Hefei University of Technology)
PhD (University of Science and Technology of China)
PDF (University of Michigan)
Research interests
Professor Dong's research interests include lysosome physiology and lysosome-related diseases. His primary interests are lysosomal ion channels and transporters. Investigation of these lysosomal channels and transporters will facilitate our understanding of the pathogenic mechanisms of many lysosomal storage diseases as well as neurodegenerative diseases.
Selected publications
Cao Q, Zhong XZ, Zou Y, Zhang Z, Ligia T, Dong XP. BK Channels Alleviate Lysosomal Storage Diseases by Providing Positive Feedback Regulation of Lysosomal Ca2+ Release. Dev Cell (in press, DOI: http://dx.doi.org/10.1016/j.devcel.2015.04.010).

Cao Q Zhong XZ, Zou Y, Murrell-Lagnado R, Zhu MX, and Dong XP. Calcium release through P2X4 activates calmodulin to promote endolysosomal membran fusion. J Cell Biol (accepted).

Cao Q, Zhao K, Zhong XZ, Zou Y, Yu H, Huang P, Xu TL, Dong XP. SLC17A9 Protein Functions as a Lysosomal ATP Transporter and Regulates Cell Viability. J Biol Chem, 2014,289: 23189-99
Huang P, Zou Y, Zhong XZ, Cao Q, Zhao K, Zhu MX, Murrell-Lagnado R, Dong XP. P2X4 Forms Functional ATP-activated Cation Channels on Lysosomal Membranes Regulated by Luminal pH. J Biol Chem, 2014, 289: 17658-67
Dong XP*, Shen D*, Wang X*, Dawson T, Li X, Zhang Q, Cheng X, Zhang Y, Weisman L, Delling M, and Xu H. PI(3,5)P2 controls intracellular membrane traffic by direct activation of mucolipin Ca2+ release channels in the endolysosome. Nature Commun, 2010, 1: 38 (*equal contribution).
Dong XP, Cheng X, Mills E, Delling M, Wang F, Kurz T, Xu H.  The type IV mucolipidosis-associated protein TRPML1 is an endolysosomal iron release channel. Nature, 2008, 455: 992-997. 
Li XM*, Dong XP*, Luo SW, Zhang B, Lee DH, Ting AK, Neiswender H, Kim CH, Carpenter-Hyland E, Gao TM, Xiong WC, Mei L. Retrograde regulation of motoneuron differentiation by muscle β-catenin. Nat Neurosci, 2008, 11: 262-268 (*equal contribution).
Selected awards and honours
Presidential Award of the Chinese Academy of Sciences (2002)
CIHR New Investigator Salary Award (2012-2017)
Institute of Aging's Special Recognition Awards, Institute of Aging-CIHR (2012)
Techniques
Techniques used in Professor Dong's laboratory include patch-clamp electrophysiology, calcium imaging, live imaging, confocal microscopy, cloning, western blotting, cell culture and mouse genetics.