Melina
Agosto
Assistant Professor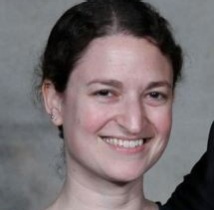 Email:
melina.agosto@dal.ca
Phone:
902-706-1292
Mailing Address:
15-A4 Sir Charles Tupper Medical Building, 5850 College Street, Halifax, Nova Scotia, Canada B3H 4R2

Research Topics:
Vision
Retinal neurons
Synaptic trafficking
Macromolecular protein complexes
Glutamate receptors
Signal transduction
Education
BS (Massachusetts Institute of Technology) 
Ph.D. (Harvard University) 
PDF (Boston Children's Hospital) 
PDF (Baylor College of Medicine)
Research Interests
The goal of Dr. Agosto's research is to understand the proteins involved in formation and function of synapses in the retina. She employs biochemical experiments and in vivo models to address questions about protein-protein interactions, membrane protein trafficking, receptor function, and synapse development. 
Selected Publications

Huh E, Agosto MA, Wensel TG, Lichtarge O. 2023. Co-evolutionary signals in metabotropic glutamate receptors capture residue contacts and long-range functional interactions. The Journal of Biological Chemistry 299, 103030.
Agosto MA, Adeosun AA, Kumar N, Wensel TG. 2021. The mGluR6 ligand-binding domain, but not the C-terminal domain, is required for synaptic localization in retinal ON-bipolar cells. Journal of Biological Chemistry 297: 101418.  
Huh E, Gallion J, Agosto MA, Wright SJ, Wensel TG, Lichtarge O. 2021. Recurrent high-impact mutations at cognate structural positions in Class A GPCRs expressed in tumors. Proceedings of the National Academy of Sciences USA 118, e2113373118.  
Baker MR, Fan G, Seryshev AB, Agosto MA, Baker ML, Serysheva II. (2021). Cryo-EM structure of type 1 IP3R channel in a lipid bilayer. Communications Biology 4: 625. 
Agosto MA, Wensel TG. (2021). LRRTM4 is a member of the transsynaptic complex between rod photoreceptors and ON bipolar cells. Journal of Comparative Neurology 529: 221–233. 
He F, Nichols RM, Kailasam L, Wensel TG, Agosto MA. (2019). Critical role for phosphatidylinositol-3 kinase Vps34/PIK3C3 in ON-bipolar cells. Investigative Ophthalmology & Visual Science 60: 2861-2874. 
Agosto MA, Anastassov IA, Wensel TG. (2018). Differential epitope masking reveals synapse-specific complexes of TRPM1. Visual Neuroscience 35: E001. 
Agosto MA, Anastassov IA, Robichaux MA, Wensel TG. (2018). A large endoplasmic reticulum-resident pool of TRPM1 in retinal ON bipolar cells. eNeuro 5: ENEURO.0143-18.2018.