Benjamin Capps
Associate Professor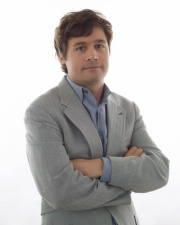 Contact Information
Email: benjamin.capps@dal.ca
Telephone: 902-494-7030
Mailing Address:
Department of Bioethics
Faculty of Medicine, Dalhousie University
5849 University Avenue, Room C-312, CRC Bldg
PO Box 15000
Halifax, NS B3H 4R2
Department:
Department of Bioethics
Research topics:
Ethics in public health, focusing on a) biobanking, and b) zoonotic diseases and developing a One Health Ethics.
Stem Cell Science and Ethics.
Neuroethics, drugs (mis)use and addiction research.
Jurisprudential and political theory, in particular the application of human rights in biotechnology and bio-medicine.
Related information:
Education:
BSc (Hons) Genetics, Cardiff University, UK
MA, School of Law, University of Sheffield, UK
PhD, Faculty of Medicine, University of Bristol, UK

Research interests
Professor Capps' research interests include One Health, stem cell science and ethics, ethics rationalism, and neuroethics. His work investigates issues relating to the nexus between applied ethics, normative theory and legal doctrine. His overall aim is to impart substantive theoretical guidance (or ethical grounding and critique) that has professional and wider social impact.
Selected publications
Lysaght T., Capps, B., Bailey, M., Bickford, D., Coker, R., Lederman, Z., Watson, S. and Tambyah, P. 2017. Justice is the Missing Link in One Health: Results of a Mixed Methods Study in an Urban City State. PLoS ONE 12(1): e0170967. doi:10.1371/journal.pone.0170967
Capps, B. In press, 2017. Do Chimeras Have Minds? The Ethics of Clinical Research on a Human-Animal Brain Model. Cambridge Quarterly of Healthcare Ethics 26(4).

Capps, B. In press 2016. The Funding of Medical Research by Industry: Can a Good Tree bring Forth Evil Fruit? British Medical Bulletin 118(1):5-15.

Capps, B. 2016. Public Goods in the Ethical Reconsideration of Research Innovation. In: Capps, P. and Patterson, S. (Eds) Ethical Rationalism and the Law. Hart Publishing.

Capps, B. and Campbell, AV. eds. 2010. Contested Cells: Global Perspectives on the Stem Cell Debate. London. Imperial College Press.
Carter, A., Capps, B. and Hall, W. (lead authors and editorial group; with contributions from R. Ashcroft, R. ter Meulen & D. Nutt). 2009. Addiction Neurobiology: Ethical and Social Implications. European Monitoring Centre on Drugs and Drug Addiction Monographs: Number Nine. EMCDDA, Lisbon; & Office for Official Publications of the European Communities, Luxembourg.
Selected awards and honours
Wellcome Trust Research Fellowship (Ph.D. Medicine; 2000-2003), Centre for Ethics in Medicine, School of Medicine, University of Bristol, UK. 'UK and European Policy in Stem Cell Research: Proposals for the Ethical Grounding of Future Regulation.'
Wellcome Trust Postdoctoral Research Fellowship (2004-2006); Centre for Ethics in Medicine, University of Bristol, UK. "Stem Cell Therapy and 'Procedural Ethics': Proposals for a Harmonised Policy within the European Union."
Honorary Associate Member; ESRC Centre for Economic and Social Aspects of Genomics (Cesagen), Cardiff University, UK. 2010-2014.

Service & Activity
Human Genome Organisation (HUGO) Committee on Ethics, Law and Society. Appointed Chair, March 2018. Vice-Chair, February 2016 - March 2018. Appointed member, January 2012-present.

School of Medicine Professionalism Committee. Member.

Belris: Bioethics and Legal Research in Singapore. Invited to join board (joint-Director) of Singapore-based independent think-tank. June 2014- November 2016.

Neuroethics Working Group, Bioethics Advisory Committee. Singapore. Appointed Member. August 2011-August 2014.
Pro-Tem National Oversight Committee for Human-Animal Combinations in Stem Cell Research. Ministry of Health, Singapore. Appointed member, March 2011-February 2012.
Royal United Hospital Trust (City of Bath, UK) Clinical Ethics Committee. Member, 2003-2008.
Teaching and Service
Unit Head; Professional Competencies in MED1, Faculty of Medicine. August 2015-present.
Component Head: Professional Competencies during Foundations, MED1, Faculty of Medicine. August 2014-present.
Director of Graduate Studies, Centre for Biomedical Ethics, Yong Loo Lin School of Medicine, National University of Singapore. 2008-2014.