Kathryn Vanya
Ewart
Senior Instructor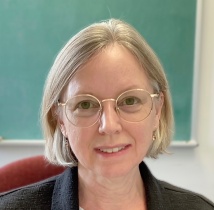 Email:
vewart@dal.ca
Phone:
902-494-3149
Mailing Address:
5850 College Street, Room 9-S1
Sir Charles Tupper Medical Building
PO Box 15000
Halifax, Nova Scotia, Canada B3H 4R2

Education
PhD, Memorial University of Newfoundland
Academic Positions
Department member since 1998
Member of the Protein Assembly Research Team

Academic Advisor
Research Topics:
Antifreeze Proteins, Proteostasis and Cold Adaptation

Research
1. Protein misfolding
We are studying the adaptations of marine species in order to understand their biology at the molecular level while also shining light on universal processes important in human health.
---
In cold ocean species, protein structures and protein environments have evolved in ways that may favour native protein folding under variable and extreme conditions. Solution components within these species can have roles in the folding of their proteins. Furthermore, these may offer new avenues to address human diseases. The faulty folding (misfolding) of proteins has emerged as an underlying cause of several neurodegenerative diseases, such as Alzheimer's disease and Parkinson's disease. To date, there are no fully effective therapies for inhibiting or reversing protein aggregation in patients with protein misfolding diseases. Therefore, molecules from marine species are being investigated for their effects on disease-related protein misfolding.
---
The conversion of human neuronal proteins to an amyloid form is implicated in several diseases; however, this process can be challenging to study in the lab. A small alpha helical antifreeze protein in the winter flounder quickly converts to an amyloid form as a result of binding to the ice surface. Since the transition is inducible with ice binding, this protein may provide a rapid and informative model for investigating the amyloid transition. We are looking into its suitability as a model for the study of amyloid formation in human disease-relevant proteins. In addition, understanding of this protein fold conversion may provide new insight into flounder biology during winter.
2. Disease-targeted research
When opportunities arise, we address specific problems using unique models that are informed by our marine perspective. In a current example, we are engaged in a collaborative project to study alpha synuclein misfolding, which is involved in Parkinson's disease. This investigation employs an unusual cellular context that may allow a better understanding of the role of particular cellular lipids in alpha synuclein misfolding.
The following agencies have provided funding to support our research and trainee development:
We thank the Michael J. Fox Foundation for Parkinson's Research, the Silverstein Foundation for Parkinson's with GBA, NSERC, the Dalhousie Medical Research Foundation and the Nova Scotia Department of Labour and Advanced Education.
Keywords:
Protein Chemistry, Molecular Biology, Cell biology, Protein Misfolding, Cold adaptation, Marine Biology, Functional Genomics
Current Lab Members
| | |
| --- | --- |
| Malcolm Cameron | Honours Student (Medical Sciences) |
| Alexis Graham | Honours Student (Biochemistry & Molecular Biology) |
| Mohamed Nashnoush | Undergraduate Volunteer (BHSc) |
| Lara Virgilio | Grad Student (MSc) |
Publications
Sands, D.C., Carsky, M., Donovan, E., Virgilio, L.L., Ewart, K.V. (2022) Interaction of curcumin with a winter flounder alpha-helical antifreeze protein. Biochem. Biophys. Res. Commun. 630:183-189 [PubMed]

Giffin, J.C., Richards, R.C., Craft, C., Jahan, N., Leggiadro, C., Chopin, T., Szemerda, M., MacKinnon, S.L. and Ewart, K.V., (2017) An extract of the marine alga Alaria esculenta modulates α-synuclein folding and amyloid formation. Neurosci. Lett. 644:87-93 [PubMed]
Nair, S., Gagnon, J., Pelletier, C., Tchoukanova, N., Zhang, J., Ewart, H.S., Ewart, K.V., Jiao, G. and Wang, Y., (2017) Shrimp oil extracted from shrimp processing waste reduces the development of insulin resistance and metabolic phenotypes in diet-induced obese rats. Appl. Physiol. Nutr. Metab. 31:1-9 [PubMed]
Dubé, A., Leggiadro, C. and Ewart, K.V., (2016) Rapid amyloid fibril formation by a winter flounder antifreeze protein requires specific interaction with ice. FEBS Lett. 590:1335-1344 [PubMed]
Jiao, G., Hui, J.P., Burton, I.W., Thibault, M.H., Pelletier, C., Boudreau, J., Tchoukanova, N., Subramanian, B., Djaoued, Y., Ewart, S., Gagnon, J., Ewart, K.V. and Zhang, J., (2015) Characterization of shrimp oil from Pandalus borealis by high performance liquid chromatography and high resolution mass spectrometry. Mar. Drugs 13:3849-3876 [PubMed]
Uribe, E. Venkatesan, M., Rose, D.M. and Ewart, K.V. , (2013) Expression of recombinant Atlantic salmon serum C-type lectin in Drosophila melanogaster Schneider 2 cells. Cytotechnology 65:513-521 [PubMed]
Uribe, E., Steele, T.J., Richards, R.C. and Ewart, K.V., (2013) Ligand and pathogen specificity of the Atlantic salmon serum C-type lectin. Biochim. Biophys. Acta 1830:2129–2138 [PubMed]
Giffin, J. and Ewart, K.V., (2013) Marine natural products for protein misfolding modulation. pp. 95-120 In: Using old solutions to new problems - Natural drug discovery in the 21st century. M. Kulka (ed.). InTech, Rijeka.:
Hudson, D.M., Mattatall, N.R., Uribe, E., Richards, R.C. Gong, H. and Ewart, K.V. , (2011) Cystine-mediated oligomerization of the Atlantic salmon serum C-type lectin. Biochim. Biophys. Acta 1814:283-289 [PubMed]
Gong, H., Abbott, K., Driedzic, W.R. and Ewart, K.V., (2011) Chemical chaperoning action of glycerol on the antifreeze protein of rainbow smelt. J. Therm. Biol. 36:78-83
Robinson, J.L., Hall, J.R., Charman, M., Ewart, K.V., Driedzic, W.R., (2011) Molecular analysis, tissue profiles, and seasonal patterns of cytosolic and mitochondrial GPDH in freeze-resistant rainbow smelt (Osmerus mordax). Physiol. Biochem. Zool. 84:363-376 [PubMed]
Richards, R.C., Short, C.E., Driedzic, W.R. and Ewart, K.V., (2010) Seasonal changes in hepatic gene expression reveal modulation of multiple processes in rainbow smelt (Osmerus mordax) Mar. Biotechnol. 12:650-63 [PubMed]