Kathryn Vanya
Ewart
Senior Instructor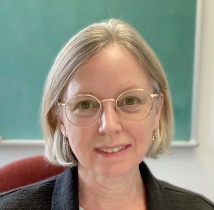 Email:
vewart@dal.ca
Phone:
902-494-3149
Mailing Address:
5850 College Street, Room 9-S1
Sir Charles Tupper Medical Building
PO Box 15000
Halifax, Nova Scotia, Canada B3H 4R2

Education
PDF, Hospital for Sick Children, University of Toronto
PhD, Memorial University of Newfoundland
BSc (Honours), Université de Moncton
Academic Positions
Department member (Adjunct 1998-2013, Instructor since 2014)
Cross-appointed, Department of Biology
Member of the Protein Assembly Research Team

Academic Advisor
Research Topics:
Antifreeze Proteins, Proteostasis and Cold Adaptation

Research
We are studying the adaptations of marine species in order to understand their biology at the molecular level while also shining light on universal processes important in human health. Our work focuses primarily on antifreeze proteins.
1. Effects of ice binding by a winter flounder antifreeze protein
As a result of ice binding, antifreeze proteins can depress of the solution freezing point, modulate the ice nucleation temperature and alter of the tendency of ice to coalesce through recrystallization. However, the relationships among these effects are not direct. Therefore, in experiments using a recombinant antifreeze protein, we are investigating specific freezing events to further understand the processes involved.
2. Hypothermic cell protection
Antifreeze proteins have been proposed to protect cells at cold temperatures above the freezing point, where no ice is present. However, it is not clear how this might occur. Therefore, we are testing hypotheses regarding hypothermic protection by antifreeze proteins using informative cell models.
3. Amyloid formation by alpha-helical antifreeze proteins
Conversion of a winter flounder antifreeze protein from an alpha helix to an amyloid conformation can be quickly triggered by freezing and thawing. In contrast, human disease-relevant amyloid-forming proteins tend to require long time intervals (hours to weeks) to form amyloid, which slows research. Therefore, we are evaluating the process of rapid amyloid formation by this antifreeze protein. We aim to determine whether it could serve as a relevant model for mammalian amyloid research.
Keywords:
Protein chemistry, molecular and cell biology, biotechnology, marine biology, cold adaptation
Current Lab Members
| | |
| --- | --- |
| Maegan Burke | Honours Student (2024) |
| Abiaz Hossain | Honours Student (2024) |
| Lara Virgilio | Grad Student (MSc) |
Publications
AbdelWahab, H. Anderson, L.E., Ayantoye, S., Barkhouse, A., Bode, J., Boutilier, B., Briand, P., Cheng, Z., Dhillon, D., Donald, K., Ernst, T., Goldman, J., Haydar, A., Hydaralli-Rosart, H., Lavigne, Z.K., McNeil, M., Mourad, G., Pietropaolo, S., Ray, J., Rodrigues, P.M.M., Sahin, B., Shin, B., Singer, M., Sit, N.Y.(K.), Jones, S. and Ewart, K.V. (2022) Effective detection of proteins following electrophoresis: using extracts of locally available food species. Spectrum 9:13 p. [Article]

Sands, D.C., Carsky, M., Donovan, E., Virgilio, L.L., Ewart, K.V. (2022) Interaction of curcumin with a winter flounder alpha-helical antifreeze protein. Biochem. Biophys. Res. Commun. 630:183-189 [PubMed]

Giffin, J.C., Richards, R.C., Craft, C., Jahan, N., Leggiadro, C., Chopin, T., Szemerda, M., MacKinnon, S.L. and Ewart, K.V., (2017) An extract of the marine alga Alaria esculenta modulates α-synuclein folding and amyloid formation. Neurosci. Lett. 644:87-93 [PubMed]
Nair, S., Gagnon, J., Pelletier, C., Tchoukanova, N., Zhang, J., Ewart, H.S., Ewart, K.V., Jiao, G. and Wang, Y., (2017) Shrimp oil extracted from shrimp processing waste reduces the development of insulin resistance and metabolic phenotypes in diet-induced obese rats. Appl. Physiol. Nutr. Metab. 31:1-9 [PubMed]
Dubé, A., Leggiadro, C. and Ewart, K.V., (2016) Rapid amyloid fibril formation by a winter flounder antifreeze protein requires specific interaction with ice. FEBS Lett. 590:1335-1344 [PubMed]
Jiao, G., Hui, J.P., Burton, I.W., Thibault, M.H., Pelletier, C., Boudreau, J., Tchoukanova, N., Subramanian, B., Djaoued, Y., Ewart, S., Gagnon, J., Ewart, K.V. and Zhang, J., (2015) Characterization of shrimp oil from Pandalus borealis by high performance liquid chromatography and high resolution mass spectrometry. Mar. Drugs 13:3849-3876 [PubMed]
Uribe, E. Venkatesan, M., Rose, D.M. and Ewart, K.V. , (2013) Expression of recombinant Atlantic salmon serum C-type lectin in Drosophila melanogaster Schneider 2 cells. Cytotechnology 65:513-521 [PubMed]
Uribe, E., Steele, T.J., Richards, R.C. and Ewart, K.V., (2013) Ligand and pathogen specificity of the Atlantic salmon serum C-type lectin. Biochim. Biophys. Acta 1830:2129-2138 [PubMed]
Giffin, J. and Ewart, K.V., (2013) Marine natural products for protein misfolding modulation. pp. 95-120 In: Using old solutions to new problems - Natural drug discovery in the 21st century. M. Kulka (ed.). InTech, Rijeka.:
Hudson, D.M., Mattatall, N.R., Uribe, E., Richards, R.C. Gong, H. and Ewart, K.V. , (2011) Cystine-mediated oligomerization of the Atlantic salmon serum C-type lectin. Biochim. Biophys. Acta 1814:283-289 [PubMed]
Gong, H., Abbott, K., Driedzic, W.R. and Ewart, K.V., (2011) Chemical chaperoning action of glycerol on the antifreeze protein of rainbow smelt. J. Therm. Biol. 36:78-83
Robinson, J.L., Hall, J.R., Charman, M., Ewart, K.V., Driedzic, W.R., (2011) Molecular analysis, tissue profiles, and seasonal patterns of cytosolic and mitochondrial GPDH in freeze-resistant rainbow smelt (Osmerus mordax). Physiol. Biochem. Zool. 84:363-376 [PubMed]
Richards, R.C., Short, C.E., Driedzic, W.R. and Ewart, K.V., (2010) Seasonal changes in hepatic gene expression reveal modulation of multiple processes in rainbow smelt (Osmerus mordax) Mar. Biotechnol. 12:650-63 [PubMed]