Paola A.
Marignani
Professor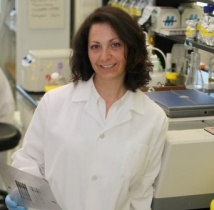 Email:
pmarigna@dal.ca
Phone:
902-494-6033
Mailing Address:
5850 College Street, Room 9-F1
Sir Charles Tupper Medical Building
PO Box 15000
Halifax, Nova Scotia, Canada B3H 4R2

Education
Hon BSc, University of Windsor
MSc, University of Western Ontario

PhD, McMaster University
Executive MBA, Ivey School of Business, Western Ontario

Academic Positions
Department member since 2003
Postdoctoral Fellowship, Harvard University

Postdoctoral Fellowship, Samuel Lunenfeld Research Institute/Ontario Cancer Institute

Research Topics
Tumour suppressors, Cancer metabolism, Metabolome wide analysis, Signal Transduction, Animal models of human disease, Pre-clinical drug studies, Drug discovery, Whole genome manipulation, Stem cell biology, Epigenetic marks.
Research
FUNDAMENTAL RESEARCH
The goal of the Marignani Discovery Research Laboratory is to discover how tumour suppressor proteins contribute to maintaining cellular equilibrium and how the loss of equilibrium leads to disease. Our vision is to develop and apply innovative strategies that will provide an understanding of the molecular basis of diseases. Our discoveries will enable scientists, clinicians and health care providers alike to effectively translate findings from the laboratory to the clinics, with the goal of 1) improving the health of Canadians and our global community, and 2) developing cures. Our core activities are the following: Platforms (metabolomics, epigenomics, proteomics, whole genome manipulation, and animal model systems (Mouse and Zebrafish)); Pre-clinical trials, small animal imaging, cell imaging strategies, protein, DNA and virus purification and production, high through-put screening strategies; Innovation through technology development and refining; Dissemination of new knowledge (peer-review publications, invited plenary and seminar speaker, public speaking); Mentoring and training of future scientist; Leadership and career development; Education; people with diseases, their families and friends, community and policy makers; Education of undergraduate students, medical students, graduate students and Postdoctoral Fellows; Resource acquisition and management.
Tumour suppressors in disease and cell metabolism.
The gene product of tumour suppressors are involved in signal transduction pathways that regulate cell cycle progression, detect DNA damage, initiates DNA repair, and regulate apoptotic processes. Mutations in the kinase domain of the serine-threonine tumour suppressor kinase LKB1 are found in numerous malignancies including breast, pancreatic and lung cancers. The aberrant signalling events that result from loss of LKB1 activity are not fully understood. Dr. Marignani's laboratory is working to understand the normal/abnormal function of the genes and proteins within a given signalling network. In so doing,the Marignani Lab will understand how loss of tumour suppressors and/or genes that can potentially lead to disease develop and progress. With this in mind, the research objectives of the Marignani Lab are: 1) Identify and validate novel biomarkers for disease, 2) Develop targeted therapeutics based on biomarker profile, 3) Conduct pre-clinical trials using animal models of disease to confirm druggable target in vivo, and 4) Translate to clinical trials to test viability of druggable target in humans.
Cytoskeletal Reorganization
The ability of a cell to migrate in response to a stimulus or as part of the metastatic process is dependent on constant reorganization of the actin cytoskeleton. The dynamic assembly and disassembly of the cytoskeleton is essential for normal growth, development and repair of an organism, and is key for the progression and invasive nature of cancer. The assembly of actin filaments is guided by several factors, of which the Rho-family of small GTPases is central. Vav2 is a guanine nucleotide exchange factor (GEF) for the Rho family GTPases and is one of three Vav-family members. Vav2 is a modular protein since it contains numerous signalling domains, suggesting that the function of Vav2 is not limited to GEF activity. Although there is a great deal of information about proteins that interact with the oncogenic Vav1, little is known about proteins that interact with the Vav2 in vivo.
Funding Sources (Current and Past)
Dalhousie Medical Research Foundation, Nova Scotia Health Research Foundation, Beatrice Hunter Cancer Research Institute, CIHR, NSERC, NSERC-Engage, CBCF-Atlantic Chapter, NS Lung Association, CFI
Marignani Lab in the News
Current Lab Members
| | |
| --- | --- |
| Mohammed Bourouh | Postdoc (University of Windsor) |
| Donna Goguen | Research |
| Jin-Hong Kim | Postdoc (University of New Brunswick) |
| Minyoung Oh | Postdoc (Jeju National University, Korea) |
Former Lab Members
Heidi Bentley
CBCF Summer Scholarship (2011, 2012)
Technician (2013, 2014)

Nadia Farbstein
Research Assistant

Matthew Foss

NSERC Summer Student (2010, 2011, 2012)

Jae Ho Han

NSERC Summer Student (2011, 2012)
Technician (2012-2013)

Aled Ioboni
NSERC Summer Student (2010, 2011)
Norah Stephen Oncology Scholarship (2012)
Avery Gold Medal (2012)

Jacob Rukavina
Honours Student (2020)
Ramani Soundararajan

Postdoc (2006-2009)
Publications
Vila-Leahey A, Oldford S, Marignani PA, Haidl I and Marshall JS, (2016) Ranitidine modifies myeloid cell populations and inhibits breast tumor development and spread in mice. Oncoimmunology 10;5(7):e1151591 [PubMed] [Article]
Nahta, R., Andrade-Vieira R., multi-author., Marignani PA, (2015) Mechanisms of environmental chemicals that enable the cancer hallmark of evasion of growth suppression. Carcinogenesis 36 (Suppl 1):S2-S18 [PubMed] [Article]
Andrade-Vieira, R, Marignani PA, multi-author, (2015) Assessing the carcinogenic potential of low-dose exposures to chemical mixtures in the environment: the challenge ahead Carcinogenesis Vol 36 (Suppl):S254-S296 [PubMed] [Article]
Vila-Leahey, A., Oldford, S., Marignani, PA. and Marshall, JS., (2015) Histamine receptor 2 blockade reduces breast tumor development and metastasis The Journal of Immunology vol.194 (1 Supplement):210.12 [Article]
Andrade-Vieira, R., Bentley H, Goguen, D. Bowen C and Marignani P, (2014) Pre-clinical study of drug combinations that reduce breast cancer burden due to aberrant mTOR and metabolism promoted by LKB1 loss. Oncotarget Published November 25, 2014: [PubMed]
Rafaela Andrade-Vieira, Jae H Han and Paola A Marignani, (2013) Omega-3 polyunsaturated fatty acid promotes the inhibition of glycolytic enzymes and mTOR signaling by regulating the tumor suppressor LKB1. Cancer Biology and Therapy 14 (11):1-9 [PubMed] [Article]
Andrade-Vieira RA, Colp P., Xu, Z., Marignani PA, (2013) Loss of lkb1 expression reduces the latency of ErbB2-mediated mammary gland tumorigenesis, promoting changes in metabolic pathways. Plos One 8(2):e56567 [PubMed] [Article]
Marignani PA and Sanchez-Cespedes M, (2010) The tumour suppressor role of LKB1 in human cancer. Emerging Signaling Pathways in Tumor Biology. :71-94
Nath-Sain, S and Marignani, P. A., (2009) LKB1 catalytic activity contributes to estrogen receptor alpha signaling. Molecular Biology of the Cell 20:2785-2795 [PubMed]
Soundararajan, R., Robertson, G., and Marignani, P. A., (2009) Triptolide: an inhibitor of a disintegrin and metalloproteinase 10 (ADAM10) in cancer cells. Cancer Biology and Therapy 8:2052-2060 [PubMed]
Arora, P.D, Marignani, P.A, and McCulloch, C.A. , (2008) Collagen phagocytosis is regulated by the guanine nucleotide exchange factor Vav2. Am J Physiol Cell Physiol. 295(1):C130-7 [PubMed]
Scott KD, Nath-Sain S, Agnew MD and Marignani PA. , (2007) LKB1 catalytic-deficient mutants enhance cyclin D1 expression. Cancer Research 67(12):5622-5627. [PubMed]
Marignani, P. A., Scott, K.D., Bagnulo, R., Stella, A., Guanti, G., Simone, C., Resta, N., (2007) Novel splice isoforms of STRADa differentially affect LKB1 activity, complex assembly and sub-cellular localization. Cancer Biology and Therapy 6(9):1627-1631 [PubMed]
Marignani, P. A., (2005) LKB1, the multi-tasking tumour suppressor kinase. Journal of Clinical Pathology 58:15-19 [PubMed]
Scheid, M., Marignani PA., Woodgett J., (2002) Multiple Phosphoinositide-3-kinase dependent steps in the activation of protein kinase B. Molecular and Cellular Biology 22:6247-6260 [PubMed]
Marignani PA., Kanai F and Carpenter CL, (2001) LKB1 associates with Brg1 and is necessary for Brg1 induced growth arrest. Journal of Biological Chemistry 276:32415-32418 [PubMed]
Marignani PA and Carpenter CL, (2001) Vav2 is required for cell spreading. Journal of Cell Biology 154:177-186 [PubMed]
Ohashi M., Kanai F., Tateishi K.,Taniguchi H., Marignani PA., Yoshida Y., Shiratori Y., Hamada H., Omata H., (2001) Target gene therapy for alpha-fetoprotein producing hepatocellularcarcinoma by E1B55k-attenuated adenovirus. BBRC 282:529-535 [PubMed]
Kanai F., Marignani PA., Sarbassova D., Yagi R., Hall RA., Donowitz M., Hisaminato A., Fujiwara T., Ito Y., Cantley LC. and Yaffe MB., (2000) TAZ: a novel transcriptional co-activator regulated by interactions with 14-3-3 and PDZ domain proteins. Embo. J. 19:6778-6791 [PubMed]
Kanai, F., Ohashi, M., Marignani, P. A., Shiratori, Y., Hamada, H., and Omata, M., (2000) Adenovirus-mediatd drug-sensitivity gene therapy for hepatocellular carcinoma. Methods Mol Med. 45:257-269 [PubMed] Methods Mol. Med. 45:257-269 [PubMed]
Nishikawa K., Toker A., Wong K., Marignani PA., Johannes F-J and Cantley LC., (1998) Association of protein kinase C with Type II phosphatidylinositol 4-kinase and Type I phosphatidyl-4-phosphate 5-kinase. Journal of Biological Chemistry 273:23126-23133 [PubMed]
Sebaldt RJ and Marignani P., (1997) Diradylglycerol formation is altered by n-3 highly unsaturated fatty acids, with differences between eicosapentaenoic (EPA) and docosahexaenoic (DHA) acids. Adv Exp Med Biol. 400 :937-45 [PubMed]
Marignani PA, (1997) Effects of Omega-3 Polyunsaturated Fatty Acids on the Formation of sn-1,2-Diradylglycerol, Cytokine Secretion and Regulation of Protein Kinase C Activity. Doctoral Thesis, McMaster University, Canada :
Marignani PA, Epand RM and Sebaldt RJ., (1996) Acyl chain dependence of diacylglycerol activation of protein kinase C activity in vitro. Biochemical and Biophysical Research Communication 225:469-473 [PubMed]
Marignani PA and Sebaldt RJ., (1996) The formation of diradylglycerol molecular species in murine peritoneal macrophages varies dose-dependently with purified eicosapentaenoic and docosahexaenoic ethyl esters. Journal of Nutrition 126:2738-2745 [PubMed]
Marignani PA and Sebaldt RJ., (1996) n-3 polyunsaturated fatty acid-induced changes in diradylglycerol molecular species in murine peritoneal macrophages remain stable during incubation ex vivo. Lipids 31:771-776 [PubMed]
Marignani PA and Sebaldt RJ, (1996) Molecular species fractionation of diradylglycerol. Journal of Nutrition 126 (11):2943
Marignani PA and Sebaldt RJ, (1996) Formation of sn-1, 2-diradylglycerol following eicosapentaenoic and docosahexaenoic ethyl ester supplementation in vivo. FASEB Journal 10(3):4171
Marignani PA. and Sebaldt RJ., (1995) Formation of second messenger diradylglycerol in murine peritoneal macrophages is altered after in vivo (n-3) polyunsaturated fatty acid supplementation. J Nutr. 125(12):3030-40. [PubMed]