Jamie M.
Kramer
Associate Professor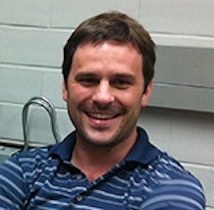 Email:
JKramer@dal.ca
Mailing Address:
5850 College Street, Room 10-M1
Sir Charles Tupper Medical Building
PO Box 15000
Halifax, Nova Scotia, Canada B3H 4R2

Education
Academic Positions
Department member since 2019
Research Topics:
Epigenetics and chromatin in brain function
Research
Epigenetics and chromatin in brain function
Mutations in genes encoding proteins that regulate chromatin structure are one of the most frequent causes of neurodevelopmental disorders, like Autism and Intellectual Disability. We still have very limited knowledge about how chromatin can impact brain function. The main goals of the Kramer lab are: 1) To learn more about the role of epigenetics and chromatin in regulation of learning and memory. 2) To understand the disease mechanisms associated with neurodevelopmental disorders that are caused by disrupted chromatin regulation. We are especially focused on epigenetic regulatory complexes involved in histone modification (acetylation/methylation) and ATP-dependent chromatin remodelling (SWI/SNF superfamily). We take a multidisciplinary systems approach, combining Drosophila behaviour, neuron specific transcriptomics and epigenomics, bioinformatics, developmental biology. Check out our publications on Google Scholar.
Keywords:
Drosophila melanogaster, Epigenetics, Chromatin, Learning and Memory, Mushroom Bodies, Neurodevelopmental Disorders, RNA/ChIP/ATAC-seq
Current Lab Members
| | |
| --- | --- |
| Taryn Jakub | Grad Student (PhD) |
| Spencer Jones | Grad Student (PhD) |
| Joel Phillips | Honours Student |
| Nicholas Raun | Grad Student (PhD) |