Jamie M.
Kramer
Associate Professor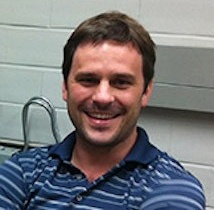 Email:
JKramer@dal.ca
Phone:
902-494-1437
Mailing Address:
5850 College Street, Room 10-M1
Sir Charles Tupper Medical Building
PO Box 15000
Halifax, Nova Scotia, Canada B3H 4R2

Education
Postdoctoral Fellow, Human Genetics, Radboud University Medical Center, Netherlands
PhD, Biology, Memorial University, Canada
BSc, Microbiology, University of Guelph, Canada
Academic Positions
Department member since 2019
Canada Research Chain in Neuroepigenetics, University of Western Ontario, 2014-2019
Graduate Coordinator, 2022 - present
Research Topics:
Epigenetics and chromatin in brain function
Research
Epigenetics and chromatin in brain function
Mutations in genes encoding proteins that regulate chromatin structure are one of the most frequent causes of neurodevelopmental disorders, like Autism and Intellectual Disability. We still have very limited knowledge about how chromatin can impact brain function. The main goals of the Kramer lab are: 1) To learn more about the role of epigenetics and chromatin in regulation of learning and memory. 2) To understand the disease mechanisms associated with neurodevelopmental disorders that are caused by disrupted chromatin regulation. We are especially focused on epigenetic regulatory complexes involved in histone modification (acetylation/methylation) and ATP-dependent chromatin remodelling (SWI/SNF superfamily). We take a multidisciplinary systems approach, combining Drosophila behaviour, neuron specific transcriptomics and epigenomics, bioinformatics, developmental biology. Check out our publications on Google Scholar.
Check out our publications and find out more about the lab at www.kramerlab.ca
Keywords:
Epigenetics, Chromatin, Learning and Memory, Mushroom Body, Neurodevelopmental Disorders, Drosophila melanogaster
Current Lab Members
| | |
| --- | --- |
| Kumari Alka | Research Associate |
| Emily Butler | Honours Student (2024) |
| Taryn Jakub | Grad Student (PhD) |
| Spencer Jones | Grad Student (PhD) |
| Neda Miandashti | Grad Student (PhD) |
| Nicholas Raun | Grad Student (PhD) |
| Rob Reid-Taylor | Laboratory Technician |
Publications
2021
Riahi H, Fenckova M, Goruk K, *Schenck A, *Kramer JM. (2021) The epigenetic regulator G9a attenuates stress-induced resistance and metabolic transcriptional programs across different stressors and species. BMC Biology, recently accepted. *equal contribution.
Raun N.*, Jones S.G.*, Kramer, J.M. (2021) Conditioned courtship suppression in Drosophila melanogaster. Journal of Neurogenetics. doi: 10.1080/01677063.2021.1873323. Online ahead of print.
2020
Kummeling J.*, Stremmelaar D.E.*, Raun N.*, Reijnders M, Willemsen MH, Ruiterkamp-Versteeg M, Schepens M, Man CCO, Gilissen C, Cho MT, McWalter K, Sinnema M, Wheless JW, Simon MEH, Genetti CA, Casey AM, Terhal PA, van der Smagt JJ, van Gassen KL, Joset P, Bahr A, Steindl K, Rauch A, Keller A, Raas-Rothschild A, Koolen DA, Agrawal PB, Hoffman TL, Powell-Hamilton NN, Thiffault I, Engleman K, Zhou D, Bodamer O, Hoefele J, Riedhammer KM, Schwaibold EMC, Tasic V, Schubert D, Top D, Pfundt R, *Higgs MR, *Kramer JM, *Kleefstra T (*equal contribution). (2020). Characterization of SETD1A haploinsufficiency in humans and Drosophila defines a novel neurodevelopmental syndrome. Molecular Psychiatry. doi: 10.1038/s41380-020-0725-5. Online ahead of print.
2019
Nixon K.C.J.*, Rousseau, J.*, Stone M.H., Sarikahya M., Ehresmann S., Mizuno S., Matsumoto N., Miyake N., DDD study, Baralle D., McKee S., Izumi K., Ritter A., Heide S., Héron D., Depienne C., Titheradge,H., Kramer J.M.*, and Campeau P.M.* (2019) A Syndromic Neurodevelopmental Disorder Caused by Mutations in SMARCD1, a Core SWI/SNF Subunit Needed for Context-Dependent Neuronal Gene Regulation in Flies. American Journal of Human Genetics. 104(4): 596-610. *equal contribution
Chubak M.C., Nixon K.C.J., Stone M.H., Raun N., Rice S.L., Sarikahya M., Jones S.G., Lyons T.A., Jakub T.E., Mainland R.L.M., Knip M.J., Edwards T.N., and Kramer J.M. (2019) Individual components of the SWI/SNF chromatin remodeling complex have distinct roles in memory neurons of the Drosophila mushroom body. Disease Models and Mechanisms. 12(2): dmm037325.
Riahi H., Brekelmans C., Foriel S, Merkling S.H., Lyons T.A., Itskov P.M., Kleefstra T., Ribeiro C., van Rij R.P., Kramer J.M.*, Schenck A.* (2019) The histone methyltransferase G9a regulates tolerance to oxidative stress-induced energy consumption. PLoS Biology. 17(3): e2006146 *equal contribution.
Castells-Nobau A, Eidhof I, Fenckova M, Brenman-Suttner DB, Scheffer-de Gooyert JM, Christine S, Schellevis RL, van der Laan K, Quentin C, van Ninhuijs L, Hofmann F, Ejsmont R, Fisher SE, Kramer JM, Sigrist SJ, Simon AF, Schenck A. (2019) Conserved regulation of neurodevelopmental processes and behavior by FoxP in Drosophila. PLoS One. 14(2): e0211652.
2018
Jones S.G., Nixon K.C.J., and Kramer J.M. (2018) Mushroom body specific transcriptome analysis reveals dynamic regulation of learning and memory genes after acquisition of long-term courtship memory. G3: Genes, Genomes, Genetics, 8(11) 3433-3446.
2017
Mainland R.L., Lyons T.A., Ruth M.M., Kramer J.M. (2017) Optimal RNA isolation method and primer design to detect gene knockdown by qPCR when validating Drosophila transgenic RNAi lines. BMC Research Notes, 10: 647.
Koemans T.S., Kleefstra T., Chubak M.C., Stone M.H., Reijnders M.R.F., Munnik S., Willemsen M.H., Fenckova M., Stumpel C.T.R.M., Bok L.A., Saenz M.S., Byerly K.A., Baughn L.B., Stegmann A.P.A., Pfundt R., Zhou H., Bokhoven H., Schenck A.*, Kramer J.M.* (2017) Functional Convergence of Histone Methyltransferases EHMT1 and KMT2C Involved in Intellectual Disability and Autism Spectrum Disorder. PLoS Genetics, 13(10): e1006864. *equal contribution
Anreiter I., Kramer J.M., Skolowski M.B. (2017) Epigenetic mechanisms modulate differences in Drosophila foraging behavior. PNAS, 114(47): 12518-12523.
Farhan S.M.K, Nixon K.C.J., Everest M., Edwards T.N., Long S., Segal D., Knip M.J., Arts H.H., Chakrabarti R., Wang J., Robinson J.F., Lee D., Mirsattari S.M., Rupar C.A., Siu V.M., FORGE Canada Consortium, Poulter M.O., Hegele R.A., Kramer J.M. (2017) Identification of a novel synaptic protein, TMTC3, involved in periventricular nodular heterotopia with intellectual disability and epilepsy. Human Molecular Genetics, 26(21): 42778-4289.
Koemans TS, Oppitz C, Donders RAT, Bokhoven H, Schenck A, Keleman K, Kramer J.M. (2017) Drosophila courtship conditioning as a measure of learning and memory. Journal of Visualized Experiments (124), e55808.