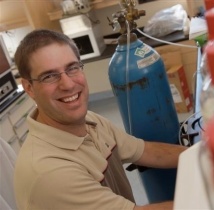 Email:
jan.rainey@dal.ca
Phone:
902-494-4632 (office)
Phone:
902-494-4812 (lab)
Mailing Address:
5850 College Street, Room 10-N1
Sir Charles Tupper Medical Building
PO Box 15000
Halifax, Nova Scotia, Canada B3H 4R2

Education
PhD, University of Toronto
Academic Positions
Department member since 2006
Cross-appointed to Department of Chemistry

Cross-appointed to School of Biomedical Engineering
Undergraduate Coordinator and Undergraduate Advisor, 2022-present
Member, Protein Assembly Research Team
Research Topics
Structural Biology and Biophysical Characterization of Proteins
Research
Structural & biophysical studies of membrane proteins & fibrous proteins
Proteins in the cell membrane and in fibres function in highly organized supramolecular assemblies, groupings of many molecules. Both classes of protein are critical for life, but are notoriously difficult to study. Our research goal is to determine not only how these classes of proteins function, but to carry out studies of these proteins in highly physiologically relevant environments. The primary aim is to understand the contribution of each constituent atom to the biological activity of a protein, providing fundamental understanding of biochemical processes, new routes for drug design, and alternative approaches for disease diagnosis and treatment. Current systems under study include a G-protein coupled receptor and its peptidic ligands; recombinant spider silk (one of the toughest known materials!); the extracellular matrix protein collagen (the most abundant protein in animals); soft polymeric nanoparticles; and, fusion-associate small transmembrane (FAST) proteins (a recently discovered class of viral membrane fusion proteins.)
Protein preparation
Two major approaches are used in our laboratory to produce proteins. In the organic chemistry based solid-phase peptide synthesis, a polypeptide is built by adding each amino acid in sequence. This provides us the ability to alter or tailor any individual amino acid residue we wish, either to determine effects of substitutions or to allow highly specific stable-isotope for nuclear magnetic resonance (NMR) spectroscopy or fluorescent labelling for biophysical study. Alternatively, molecular biology based cloning and expression is used to produce larger proteins. Beyond production of proteins, this readily allows both uniform and selective stable-isotope labelling . In each case, purification may be performed by high-performance liquid chromatography (HPLC) or other chromatographic methods, as appropriate. Mass spectrometry is typically used to characterize our synthetic or expression products.
NMR spectroscopy & structure calculations
NMR spectroscopy is our primary experimental technique, allowing us to determine protein structure and dynamics at the level of the individual nucleus. We use both solution-state and solid-state NMR to understand protein function in a variety of situations ranging from polypeptides in aqueous buffer to large protein assemblies and proteins embedded in phospholipid bilayers. In the case of solid-state NMR, we are currently working towards new methods that will allow characterization of not only the structure of proteins in membranes or fibres but the structure of these proteins relative to their supramolecular environment. Structure calculations are a critical component of biomolecular NMR, and we spend a lot of time ensuring that our calculations are truly providing a structural ensemble accurately representing the experimental data.
Scanning probe microscopy & force spectroscopy
Scanning probe microscopy (SPM), also known as atomic force microscopy (AFM), is the other major technique employed by our laboratory. This type of microscopy uses a very sharp tip to image a surface, making use of the force of interaction between the tip and the surface to produce a topological and/or chemical image of the surface. This technique is capable of probing individual atoms, but for biological samples a more realistic resolution limit is on the order of a nanometer. SPM can also be used for study of the interaction forces between pairs of molecules, providing picoNewton level accuracy. A major focus in our research is the development of methods to allow exactly the same sample to be studied by solid-state NMR and SPM.
Circular dichroism & fluorescence spectroscopy
Circular dichroism (CD) spectroscopy allows rapid determination of protein secondary structure under various conditions. Fluorescence spectroscopy allows us to quickly assess the environment surrounding individual amino acids (i.e. are they exposed to solvent vs. buried in a protein core?) and the free- or bound-state of a protein. These methods provide an important counterpoint to our NMR and SPM experiments, since characterization is often much more rapidly achieved and provide different classes of information.
Funding
Operating: NSERC, CIHR, NSHRF. Infrastructure: CFI, NSERC, Dalhousie Medical Research Foundation.
Keywords:
Protein NMR spectroscopy, Solid-state NMR spectroscopy, scanning probe microscopy, circular dichroism (CD) spectroscopy, fluorescence spectroscopy, solid-phase peptide synthesis, cloning & expression, cell-free expression, HPLC, Langmuir-Blodgettry
Current Lab Members
| | |
| --- | --- |
| Ryan DeFoa | Honours Student (2024) |
| Sara Evans | Grad Student (MSc Chemistry) |
| Zahra Falahati | Grad Student (PhD) |
| Anupama Ghimire | Grad Student (PhD) |
| Berna Macin | Grad Student (MSc) |
| Tam Pham | Grad Student (PhD) |
| David Tsitrin | Honours Student (Medical Sciences; 2022-2023) |