Neale D.
Ridgway
Professor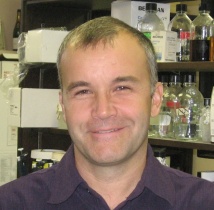 Email:
nridgway@dal.ca
Phone:
902-494-7133
Mailing Address:
5849 University Avenue, Room C306
Clinical Research Centre
PO Box 15000
Halifax, Nova Scotia, Canada B3H 4R2

Education
PhD, University of British Columbia
Academic Positions
Department member since 1991
Research Topics
Cell Biology of Cholesterol and Lipids
Research
Intracellular cholesterol transport pathways
Cholesterol in low-density lipoproteins is deposited in artery walls leading to heart disease and stroke. This is counteracted by pathways that export cholesterol from cells to high density lipoprotein acceptors for eventual removal by the liver. Lipoproteins in the bloodstream are controlled at the cellular level by transcriptional and post-transcriptional regulatory circuits that interact with cholesterol or its oxygenated derivatives (oxysterols) in the endoplasmic reticulum, plasma membrane and nucleus to impart negative or positive feed-back regulation of cholesterol metabolism. Thus the signals coming from these regulatory pathways depend on the amount of cholesterol they encounter, which is in turn controlled by ill-defined cholesterol transport processes. We are identifying these cholesterol transport pathways by studying a family of high affinity cholesterol and oxysterol receptors called oxysterol binding proteins (OSBPs). OSBPs have sterol-binding domains, pleckstrin homology domains that bind phosphatidylinositol phosphates (PIPs) and a motif that binds a protein called VAP in the endoplasmic reticulum. This domain configuration allows OSBPs to interact with and transfer cholesterol between target organelles, such as the Golgi apparatus and endoplasmic reticulum. We are currently investigating how OSBP–mediated cholesterol and oxysterol transport affects cellular cholesterol homeostasis, with a specific focus on the role of OSBPs in cholesterol removal from cells and modulation of cholesterol levels in the secretory and endocytic pathways.
Role of lipid synthesis in cell proliferation and apoptosis
Phosphatidylcholine (PC), the major glycerophospholipid in eukaryotic cells, is a key constituent of membranes and a source of growth-regulating signaling molecules, such as diacylglycerol and phosphatidic acid. PtdCho synthesis is regulated by the activity of the rate-limiting, nuclear enzyme CTP:phosphocholine cytidylyltransferase (CCT). During apoptosis, CCT is proteolyzed by caspases and exported from the nucleus as a part of program that prevents further PC synthesis. On the other hand, cancer cells have elevated CCT expression and nuclear activity. We are currently investigating the pivotal role that CCT plays in cell survival, and whether it is required for evasion of apoptosis by cancer cells. CCT also regulates the architecture of nuclear membranes by physically interacting with the nuclear envelope and forming membrane invaginations into the interior of the nucleus called the nucleoplasmic reticulum (NR). The NR is a 'hotspot' for calcium signaling and enhances transport of material between the cytoplasm and nucleus. Currently we are investigating how the NR forms, its function(s), and pathological roles in cell transformation and carcinogenesis.
Current Lab Members
| | |
| --- | --- |
| Mark Charman | Technician |
| Robert Douglas | Lab Manager |
| Anna Naug | Honours Student (2024) |
| Kexin Zhao | Postdoc (Chinese Academy of Sciences, Beijing) |