QEII Breast Imaging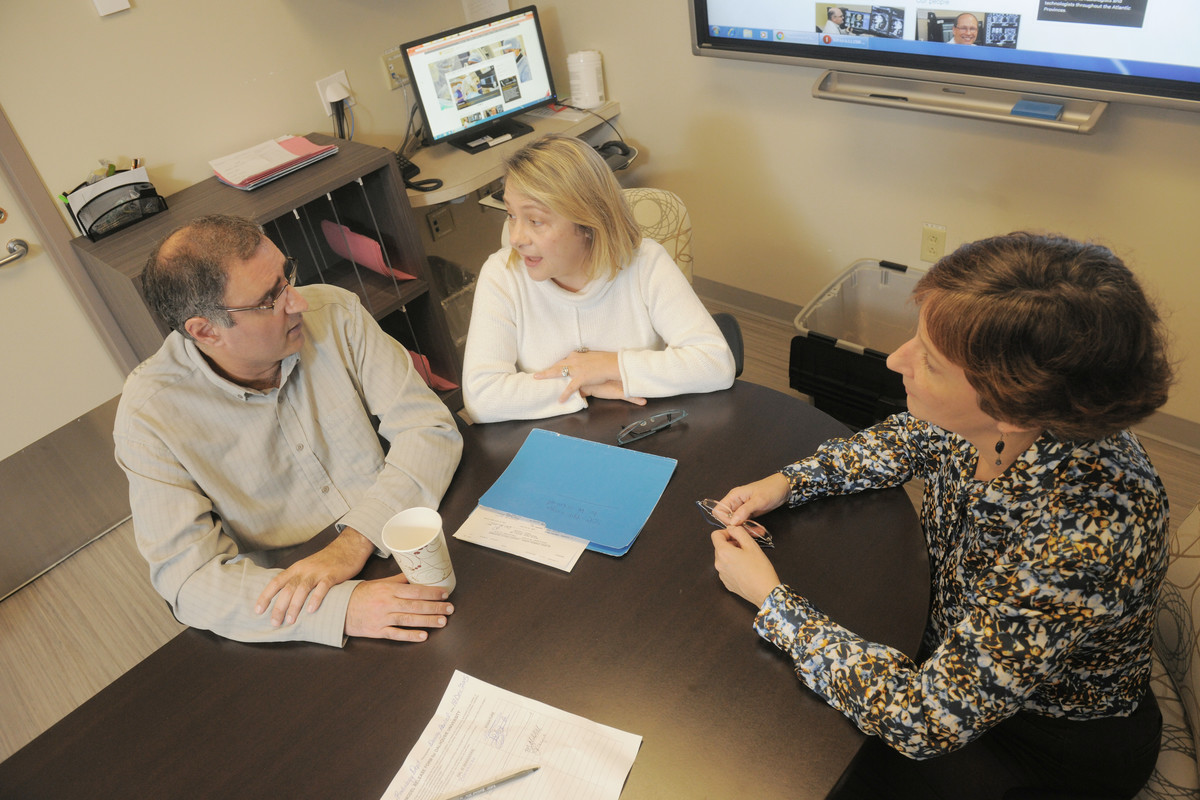 Dedicated to research
Our team
We have eight radiologists and two research scientists as part of the Breast Imaging Section. Our section members are part of a multidisciplinary breast imaging research group, which also includes clinicians and scientists from pathology, surgery and oncology.
We have dedicated screening technologists and diagnostic technologists and a team lead at the IWK Health Centre. Our clerical staff and our diagnostic imaging  manager are important members of our co- lead collaborative approach to Breast Imaging. We have close ties to the Breast Health Surgical Team consisting of two nurse patient navigators and four breast surgeons led by Dr. Trevor Topp.
We also work very closely with the Pathology department led by internationally known Breast Pathologist, Dr Penny Barnes. We have eight mammography technologists, including a team lead, assigned to three screening sites. We have a Patient Navigator, Sarah McCarthy at the NSBSP. The establishment of a patient navigator for breast screening was an innovation of the Nova Scotia Breast Screening Program.
Our research
We are directly affiliated with the Nova Scotia Breast Screening Program, which allows access to real time data on screening and outcomes. The breast screening program in Nova Scotia is unique among its counterparts in Canada in that it services the entire population of the province and all breast imaging data both screening and diagnostic is captured in the Breast Information System. "With access to province-wide data, we are able to establish performance measures and associated targets that help strengthen our program and that may be used to develop and support efficient and effective breast screening programs elsewhere," says Dr. Jennifer Payne.
Breast Density research is a major focus of the Section with collaboration with other breast imagers from Nova Scotia and PEI; multiple abstracts have been presented at the European Congress of Radiology and we have recently published "Consistency of visual assessments of mammographic breast density from vendor-specific "for presentation" images" in the Journal of Medical Imaging.
"Breast density affects the accuracy of mammography and women with dense breast tissue are at greater risk of breast cancer, so there is a heightened urgency for research in this area. There is also the opportunity to contribute greatly to our knowledge of breast cancer and to patient outcomes," says Dr. Abdolell.
Dr. Abdolell's interest in breast density has led to the establishment of his own company Denitas ® which develops digital mammography products addressing the clinical and administrative requirements of hospitals and radiology clinics.
Our educational program
Diagnostic radiology residents complete a four-month rotation in breast imaging. The patient interaction opportunities are a highlight of the rotation and provide opportunities for mentoring in patient centred care. Many of our residents have gone on to do Fellowships in Breast Imaging and continue to practice Breast Imaging in Nova Scotia and across the country.
Members of the Breast Imaging section also provide undergraduate teaching of medical students and other learners, and postgraduate teaching of residents in many disciplines.
Our clinical care
We provide breast imaging including diagnostic mammography, ultrasound, 3D ultrasound, breast MRI and breast tomosynthesis at the Breast Health Center at the IWK.
We provide  screening services to three NSBSP screening sites in Halifax servicing about half of the Nova Scotia population.
Annually we perform over 32,000 screening mammograms, 9,000 diagnostic mammograms, 1,000 core biopsies, 2,000 breast ultrasounds and 200 breast MRIs.
Our expertise in stereotactic core biopsy using an add on device and the quality assurance program developed as part of our image guided biopsy service is an integral part of the success of  breast imaging and screening in Nova Scotia.
Our outreach
Dr. Sian Iles is Medical Advisor to the Nova Scotia Breast Screening Program.
Dr. Sian Iles, Breast Imaging Section Head, sits on the Advisory Council of the Nova Scotia Breast Screening Program and is co chair of the provincial Breast Imaging Service Advisory Committee.
We are all part of the Nova Scotia Breast Screening Program.
Kudos
Nova Scotia is the first province to have deployed automated breast density province wide using the Densitas software . Women and their caregivers are informed of breast density and its implications as part of the screening program.
Dr Abdolell and team whose paper "Consistency of visual assessments of mammographic breast density from vendor-specific 'for presentation' images" (2015)  Mohamed Abdolell; et. al has been one of the top downloads from the Journal of Medical Imaging since its publication in Oct 2015.
Dr Abdolell and team who have developed a  soft ware program with a comprehensive approach to mammography image quality. We are hoping to implement this on a province wide basis to help improve quality and outcomes. 
Faculty members