QEII Nuclear Medicine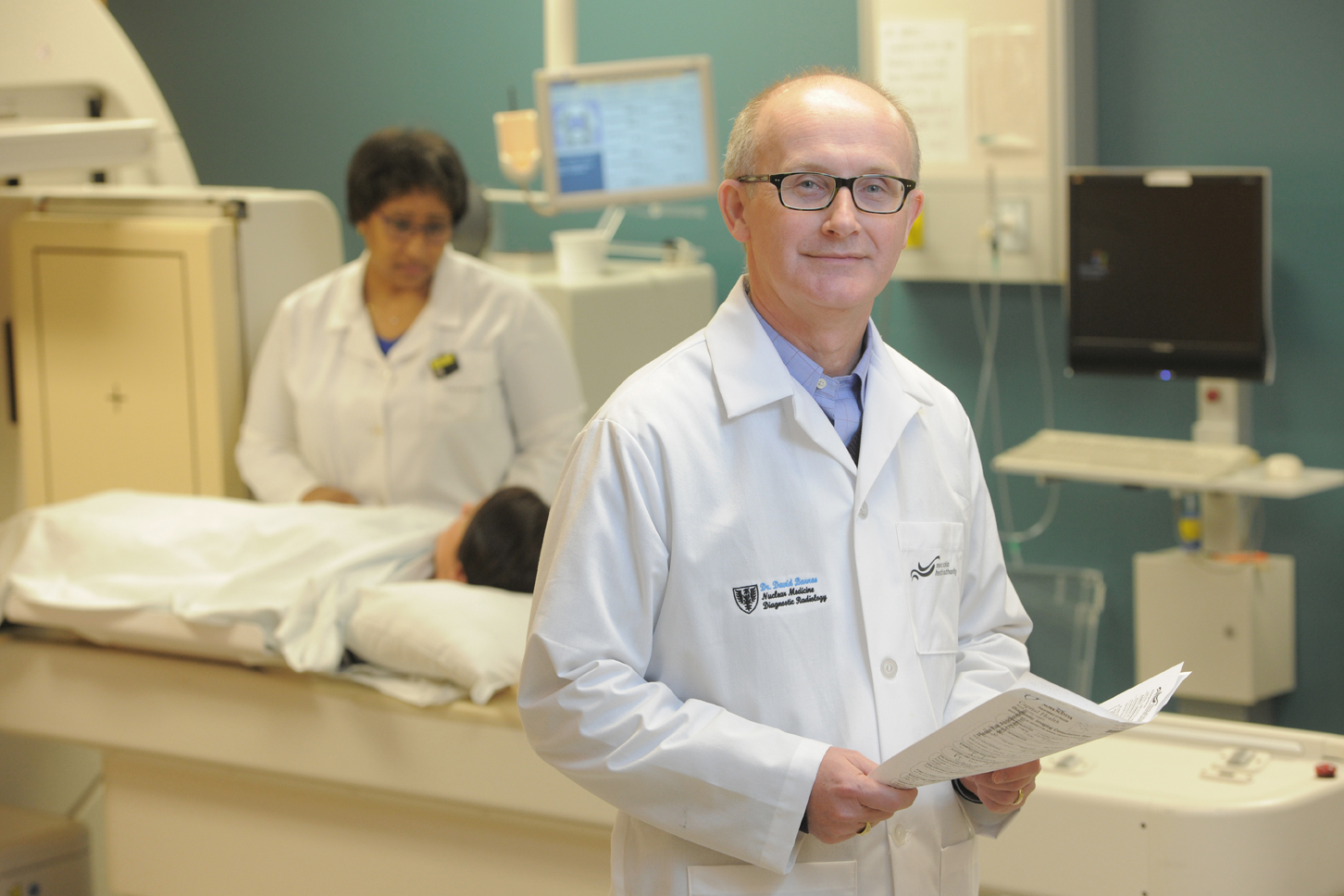 Our Clinical Care
Nuclear Medicine
Nuclear Medicine uses radiolabelled molecules -- radiopharmaceuticals – to diagnose and treat disease. Our tests span the breadth of medicine, including oncology, cardiac disease, and endocrinology, as well as diseases of the neurologic, musculoskeletal, gastrointestinal, genitourinary, and pulmonary systems. New studies recently introduced include 123I-Ioflupane (DATSCANTM) for parkinsonian disorders and 99mTc-pyrophosphate for assessment of cardiac amyloid. Our contribution to patient care includes involvement in 9 cancer tumour site teams. In addition to QEII studies, we oversee and report much of the nuclear medicine performed at the Cape Breton Regional Hospital and the IWK Health Centre. 
Positron Emission Tomography
We perform over 3000 18F-FDG PET-CT scans per year, contributing significantly to the care of Nova Scotians. The majority are for oncology, though brain PET is performed for dementia and epilepsy, while cardiac PET is performed for sarcoidosis. 
In addition to 18F-FDG, we have recently introduced 68Ga-DOTATATE PET scanning, a major advance in the assessment of patients with neuroendocrine tumours. It is anticipated that other PET tracers will follow, beginning with 68Ga-PSMA for prostate cancer. 
Radioisotope Therapies
In November 2020 we began performing 177Lu-DOTATATE therapies, the "Theragnostic" counterpart of the 68Ga-DOTATATE PET scans mentioned above. We are currently involved with 177Lu-PSMA therapy for prostate cancer in clinical trials and it is anticipated this will become available clinically in the near future. These join our established repertoire of radioisotope therapies including 131Iodine for hyperthyroidism and thyroid cancer, 223Radium for prostate cancer, and 131I-MIBG for neuroendocrine tumours. We also facilitate 90Y-microsphere liver therapies performed by Interventional Radiology and 90Y-colloid treatment of craniopharyngiomas by Neurosurgery. 
Bone Mineral Density
Bone Mineral Density (BMD) and fracture risk assessment are major facets of our clinical and educational programs. Dalhousie Nuclear Medicine physicians are engaged in these pursuits at the national level with Osteoporosis Canada, the Canadian Association of Radiologists, and the Canadian Panel of the International Society of Clinical Densitometry.
Our Education
Nuclear Medicine is a separate specialty of the Royal College of Physicians and Surgeons of Canada (RCPSC). At Dalhousie we offer a sought-after six-year combined Nuclear Medicine and Diagnostic Radiology Residency, leading to RCPSC certification in both specialties. 
Dr. E. Ashley Wiley is the Residency Program Director. There are currently five residents in our program. We are also the main clinical site for the training of Nuclear Medicine technologists through the Faculty of Health Professions. 
Our Research
Dalhousie Nuclear Medicine has a strong tradition of research. Our physicians have been Dalhousie Research Directors and have received local and national research awards. In addition to investigator-driven research, we participate in industry-sponsored research including novel PET radiotracers and radioisotope therapies. 
Our Equipment
State-of-the-art digital PET-CT scanner (GE Discovery MI 25)
3 SPECT-CT cameras
3 additional gamma cameras
Radiopharmaceutical production facilities:

cyclotron and 18F-FDG production centre
68Gallium generator
provincial radiopharmacy, hotlab and wetlab facilities
Faculty members