Dr.

Ivan

Wong

,

MD, FRCSC
Halifax Infirmary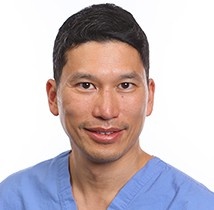 Sports Medicine Surgeon (Shoulder, Hip, and Knee Arthroscopic Reconstructions), Professor
Dr. Wong specializes in hip and shoulder arthroscopy, including new arthroscopic reconstructions of large rotator cuff tears and arthroscopic Latarjet procedures. He is devoting his career to his patients by constantly striving to innovate and make procedures less invasive, with smaller incisions, less pain, and shorter downtime. He is committed to advancing his field of specialty. He has helped to train many medical students, residents, fellows in sports medicine, as well as orthopaedic surgeons in sports medicine and arthroscopic procedures around the world.
Dr. Wong grew up in Prince Edward Island and graduated from Acadia University. He was a gymnast for 16 years, competing nationally and internationally. He suffered an Achilles tear that ended his career as a competitive athlete, and then decided to focus his attention on treating elite athletes. His new goal has been to prevent athletes from getting injured, and returning injured athletes back to compete at an elite level.
Dr. Wong went on to earn his medical degree from Dalhousie University and completed his Orthopaedic Surgery residency at McMaster University. He completed a fellowship in Sports Medicine and Trauma at the Southern California Orthopaedic Institute in Los Angeles.
He is a current staff member of the Orthopaedic Surgery Team of Nova Scotia Health Authority, at the Queen Elizabeth II Hospital and serves as a Professor with Dalhousie University.
Dr. Wong has completed his Masters of Academic Medicine at the University of Southern California. His current endeavors include the development of a surgical education lab where medical students, residents, and surgeons can learn advanced arthroscopic skills. He actively teaches residents and practicing physicians through seminars and cadaver courses.
In his free time, Dr. Wong is active with paddling, climbing, surfing, snowboarding, golf, travelling and enjoying time with his wife and family.