Christopher R.
McMaster
Professor (Pharmacology)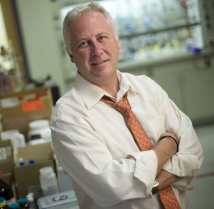 Email:
christopher.mcmaster@dal.ca
Phone:
902-494-3430
Mailing Address:
5850 College Street, Room 6-B2
Sir Charles Tupper Medical Building
PO Box 15000
Halifax, Nova Scotia, Canada B3H 4R2

Education
PhD, University of Manitoba
Academic Positions
Department member since 1996
Research Topics
Genetics and chemical genetics to identify drug targets and drugs for unmet medical needs
Research
Identification of drug targets and potential drugs to treat orphan diseases
One in twelve people suffer from an inherited 'orphan disease'. While individually rare, with a single orphan disease found in less than 1 in 2000 persons, cumulatively the 7000 different known orphan diseases affect three million Canadians. As 90% of orphan diseases have no treatment, 90% are life-limiting, and 50% affect children, they carry a very large socio-economic and healthcare burden. We use cutting edge genomics technologies to discover new genes that cause orphan disease. These new gene discoveries are driving the discovery of new therapies and are offering hope to orphan disease patients by identifying and confirming therapeutic targets using genetic models of orphan disease and discovering compounds to transition to drugs to treat orphan disease patients. The end goal is to relieve the encumbrances on orphan disease patients, their families, and the health care system.
Chemiinformatics as a computational method for the design of small drug molecules
Novel antimicrobials are being developed by exploiting differences in the lipid metabolic pathways of prokaryotes versus mammalian cells. Computer aided drug design and organic synthesis of small molecules is followed by testing efficacy versus target enzymes in vitro, and on bacteria and the metabolic pathways of interest in vivo. The aim is to bring the first truly new class of antibiotics to the clinic in the past 30 years.
Genetic models to determine how cells maintain lipid homeostasis
The maintenance of lipid homeostasis is essential for normal cell growth. Alterations in lipid homeostasis can result in a myriad of diseases, most notably atherosclerosis, obesity, diabetes, and are the underlying cause of many inherited metabolic disorders. We are using genetics approaches to identifiy new genes that regulate lipid metabolism, with an eye toward genes that affect human health.
Keywords:
genetic models, drug target identification, drug discovery
Current Lab Members
| | |
| --- | --- |
| Robert Boudreau | Postdoc |
| Pedro Fernandez-Murray | Postdoc |
| Marissa LeBlanc | Postdoc (Dalhousie University) |
| Pak Phi Poon | Postdoc (Concordia University, Montreal, QC) |
| Katherine Strynatka | Grad Student (PhD) |
| Marcia Taylor | Postdoc |
| Mahtab Tavasoli | Postdoc |
| Sarah van der Ende | Grad Student (PhD) |
| Fan Wu | Postdoc |
Publications
Gaspard, GJ and McMaster, CR, (2015) The mitochondrial quality control protein Yme1 is necessary to prevent defective mitophagy in a yeast model of Barth Syndrome. J.Biol.Chem 2015 Feb 16. pii: jbc.M115.641878. [Epub ahead of print]: [PubMed] [Article]
Fernandez-Murray, J.P., Ngo, M.H., and McMaster, C.R., (2013) Choline Transport Activity Regulates Phosphatidylcholine Synthesis Through Choline Transporter Hnm1 Stability. J. Biol. Chem 288:36106-36115 [PubMed]
Beaulieu, C.L. Samuels, M.E., Ekins, S., McMaster, C.R., Edwards, A.M., Krainer, A.R., Hicks, G.G., Frey, B.J., Boycott, K.M., and MacKenzie, A.E, (2012) Generalizable Pre-clinical Research Approach for Orphan Disease Therapy Orphanet Journal of Rare Diseases 6:39
Beh, C.T., McMaster, C.R., Kozmonski, K.G., and Menon, A.K. , (2012) A Detour for Oxysterol-Binding Proteins J. Biol. Chem. 287:11481-11488
LeBlanc, M.A., and McMaster, C.R. , (2010) Lipid Binding Requirements for Oxysterol Binding Protein Kes1 Inhibition of Autophagy and Endosome-trans-Golgi Trafficking Pathways J. Biol. Chem. 285:33875-33884
Guernsey, D.L., Matsuoka, M., Jiang, H., Evans, S., Macgillivray, C., Nightingale, M., Perry, S., Ferguson, M., LeBlanc, M.A., Paquette, J., Patry, L., Rideout, A.L., Thomas, A., Orr, A., McMaster, C.R., Michaud, J.L., Deal, C., Langlois, S., Superneau, D, (2010) Mutations in Origin Recognition Complex Gene ORC4L Cause Meier-Gorlin Syndrome Nature Genetics 43:360-366
Curwin, A.J., Fairn, G.D., and McMaster, C.R, (2009) The Phospholipid Transfer Protein Sec14 is Required for Trafficking from Endosomes and Regulates Distinct trans-Golgi Export Pathways J. Biol. Chem. 284:7364-7375
MacKinnon, M.A., Curwin, A.J., Gaspard, G.J., Suraci, A.B., Fernández-Murray, J.P., McMaster, C.R. , (2009) The Kap60/Kap95 Karyopherin Complex Directly Regulates Phosphatidylcholine Synthesis J. Biol. Chem. 284:7376-7384
Fernández-Murray, J.P., Gaspard, G.J., Jesch, S.A., and McMaster, C.R. , (2009) Phosphatidylcholine Phospholipase B Neuropathy Target Esterase 1 (Nte1) Regulates Transcription of Phospholipid Biosynthetic Genes J. Biol. Chem. In press:
LeBlanc, M.A., and McMaster, C.R. , (2009) Surprising Roles for Phospholipid Binding Proteins Revealed by High Throughput Genetics Biochem. Cell Biol. In press:
Fernández-Murray, JP, Gaspard, GJ, Jesch, SA, McMaster ,CR., (2009) NTE1-encoded phosphatidylcholine phospholipase b regulates transcription of phospholipid biosynthetic genes. J.Biol.Chem 284(52):36034-46 [PubMed] [Article]
Fairn, G.D., and McMaster, C.R. , (2008) Emerging Roles of the Oxysterol Binding Protein Family in Metabolism, Transport, and Signaling Cell Mol. Life Sci 65:228-236
Curwin, A.J., and McMaster, C.R., (2008) Structure and Function of the Enigmatic Sec14 Domain Containing Proteins and the Etiology of Human Disease Future Lipidol. 3:399-410
Gong, H., Murphy, P.W., Langille, G.M., Minielly, S., Murphy, A., McMaster, C.R., and Byers, D. M., (2008) Tryptophan fluorescence reveals induced folding of Vibrio harveyi acyl carrier protein upon interaction with partner enzymes. BBA Proteins and Proteomics 1784:1835-1843 [PubMed]
Fernández-Murray, J.P., and McMaster, C.R., (2007) Phosphatidylcholine Synthesis and its Catabolism by Yeast Neuropathy Target Esterase 1 (Review) Biochim. Biophys. Acta 1771:331-336
Fairn, G.D., MacDonald, K., and McMaster, C. R., (2007) A Chemogenomic Screen in Saccharomyces cerevisiae Uncovers a Primary Role for the Mitochondria in Farnesol Toxicity and its Regulation by the Pkc1 Pathway J. Biol. Chem. 282:4868-4874
Gong, H., Murphy, A., McMaster, C.R. and Byers, D.M. , (2007) Neutralization of acidic residues in helix II stabilizes the folded conformation of acyl carrier protein and variably alters its function with different enzymes. J. Biol. Chem. 282:4494-4503 [PubMed]
Howe, A.L., Fairn, G.D., MacDonald, K., Bankaitis, V.A., and McMaster, C. R., (2007) Regulation of Phosphoinositide Levels by the Phospholipid Transfer Protein Sec14p Controls Cdc42p/PAK Mediated Cell Cycle Progression at Cytokinesis Euk. Cell 6:1814-1823
Fairn, G.D., Curwin, A.J., Stefan, C., and McMaster, C. R., (2007) Regulation of Golgi Phosphatidylinositol 4-phosphate Function by the Oxysterol Binding Protein Kes1p Proc. Natl. Acad. Sci. U.S.A. 104:15352-15357
Fairn, G.D., and McMaster, C. R., (2007) Emerging Roles of the Oxysterol Binding Protein Family in Metabolism, Transport, and Signaling (Review) Cell Mol. Life Sci. in press:
Fernández-Murray, J.P., and McMaster, C.R., (2006) Identification of Novel Phospholipid Binding Proteins in Saccharomyces cerevisiae Febs Lett. 580:82-86
Howe, A.G., and McMaster, C.R., (2006) Regulation of Phosphatidylcholine Homeostasis by Sec14 (Review) Can. J. Physiol. Pharmacol 84:29-38
Richard, K.C., Bertolesi, G.E., Dunfield, L.D., McMaster, C.R., and Nachtigal, M. W. , (2006) TSAd interacts with Smad2 and Smad3 Biochem. Biophys. Res. Comm. 347:266-272
Zaremberg, V., Gajate, G., Cacharro, L.M., Mollinedo, F., and McMaster, C.R. , (2005) Cytotoxicity of the Anti-cancer Lipid Edelfosine is Through Selective Modification of Lipid Raft Composition J. Biol. Chem. 280:38047-38058
Bailey, K., Cook, H.W., and McMaster, C.R., (2005) The Phospholipid Scramblase PLSCR1 Increases UV Induced Apoptosis in Chinese Hamster Ovary Cells by Primarily Augmenting the Intrinsic Apoptotic Pathway Biochim. Biophys. Acta 1733:199-209
Wong, T., Fairn, G.D., Poon, P.P., McMaster, C.R., Singer, R.A., and Johnston, G.C. , (2005) Membrane Metabolism Mediated by Sec14p Family Members Influences ArfGAP Activity for Transport from the trans-Golgi Proc. Natl. Acad. Sci. U.S.A 102:12777-12802
Morash, S.M., Douglas, D., Cook, H.W., McMaster, C.R., and Byers, D.M., (2005) Expression of MARCKS Effector Domain Mutants Alters Phospholipase D Activity and Cytoskeletal Morphology of SK-N-MC Neuroblastoma Cells Neurochem. Res. 11:1353-1364 [PubMed]
Mohan, K., Cordeiro, E., Vaci, M., McMaster, C.R., and Issekutz, T.B., (2005) CXCR3 is Required for Migration to Dermal Inflammation by Normal and In Vivo Activated T Cells: Differential Requirements by CD4 and CD8 Memory Subsets Eur. J. of Immunol. 35:1702-1711
Fairn, G.D., and McMaster, C.R. , (2005) The Roles of the Human Lipid Binding Proteins ORP9S and ORP10S in Vesicular Transport Biochem. Cell Biol. 83:631-636
Fernández-Murray, J.P. and McMaster, C.R., (2005) Nte1p Mediated Deacylation of Phosphatidylcholine Functionally Interacts with Sec14p J. Biol. Chem. 280:8544-8552
Fairn, G.D. and McMaster, C.R., (2005) Identification and Assessment of the Role of a Nominal Phospholipid Binding Region of Oxysterol Binding Protein Related Protein ORP1S in the Regulation of Vesicular Transport Biochem. J. 387:889-896
Fairn, G.D. and McMaster, C.R. , (2005) Studying Phospholipid Metabolism Using Yeast Systematic and Chemical Genetics Methods 36:102-108
Taylor, M.M., MacDonald, K., Morris, A.J., and McMaster, C.R., (2005) Enhanced Apoptosis Through Farnesol Inhibition of Phospholipase D Signal Transduction FEBS J. 272:5056-5063
Fernández-Murray, J.P., and McMaster, C.R, (2005) Glycerophosphocholine Catabolism as a New Route for Choline Formation for Phosphatidylcholine Synthesis by the Kennedy Pathway J. Biol. Chem. 280:38290-38296
Fernández-Murray, J.P., and McMaster, C. R., (2005) Glycerophosphocholine Catabolism as a New Route for Choline Formation by the Kennedy Pathway J. Biol. Chem. 280:38290-38296
Hunt, A.N., Fenn, H.C., Clark, G.T., Wright, M.M., Postle, A.D., and McMaster, C.R., (2004) Lipidomic Analysis of the Molecular Specificity of a Cholinephosphotransferase In Situ. Biochem. Soc. Trans 32:1060-1062
Zaremberg, V., and McMaster, C.R., (2002) Differential Partitioning of Lipids Metabolized by Separate Yeast Glycerol-3-phosphate Acyltransferases Reveals that Phospholipase D Generation of Phosphatidic Acid Mediates Sensitivity to Choline-containing Lysolipids and Drugs. J. Biol. Chem. 277:39035-39044
Howe, A.G., Zaremberg, V., and McMaster, C.R., (2002) Cessation of Growth to Prevent Cell Death Due to Inhibition of Phosphatidylcholine Synthesis is Impaired at 37C in Saccharomyces cerevisiae. J. Biol. Chem. 277:44100-44107
Wright, M.M., and McMaster, C.R., (2002) Phosphatidylcholine and Phosphatidylethanolamine Synthesis: Mixed Micellar Analysis of the Cholinephosphotransferase and Ethanolaminephosphotransferase Activities of Human CEPT1. Lipids 37:663-672
Wright, M.M., and McMaster, C.R., (2002) Phospholipid Synthesis, Diacylglycerol Compartmentation, and Apoptosis. (Review) Biol. Res. 35, 223-229 Biol. Res. 35:223-229
Henneberry, A.L., Wright, M.M., and McMaster, C.R., (2002) The Major Sites of Cellular Phospholipid Synthesis and Molecular Determinants of Fatty Acid and Lipid Head Group Specificity. Mol. Biol. Cell 13:3148-3161
Henneberry, A.L., Lagace, T.A., Ridgway, N.D., and McMaster, C.R., (2001) Phosphatidylcholine Synthesis Influences the Diacylglycerol Homeostasis Required for Sec14p Dependent Golgi Function and Cell Growth. Mol. Biol. Cell 12:511-520